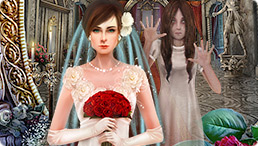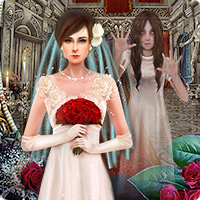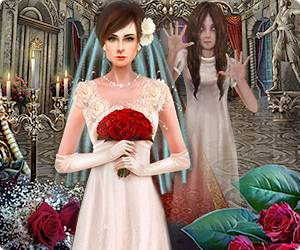 This game is brought to you by our sponsors. It is always free. NO TIME LIMITS!
You will be offered to install MyPlayCity Games Search Chrome Extension with convenient internet search.
Silent Scream II: The Bride
Reveal the truth about the mysterious catastrophe in the breathtaking hidden object game Silent Scream II: The Bride! Today is Jessica's wedding and the bride is in the seventh heaven from happiness. Everything is perfect, relatives and friends hail the young couple while Jon, girl's husband was always near her. The ceremony was wonderful and happy newly-weds are now on the way to their mansion, young people are deeply in love with each other and they believe that their future life will be long and happy. But fate had other plans, not so bright and carefree. Jon saw a ghost of a girl on the back seat of the car, got frightened and lost control, so Jessica and her husband got to a car catastrophe… Are you fond of brain training detective stories? So if you are ready to solve the mysterious car crush, the game Silent Scream II: The Bride is the best choice to enjoy your free time. Jessica regained consciousness on the roadside in the broken car, she was badly wounded but what frightened her the most is the Jon's disappearance. Where is he? What's happened to him? The girl is ready to discover the truth! Help Jessica in the game Silent Scream II: The Bride and join the most sinister game ever! Choose the game mode either Thriller or Nightmare to see if your nerves are made of steel not to be scared of the awful truth that may be revealed at the end of the game. Explore gloomy yet beautiful locations and find out what's happened several years ago. You appear in the Forest Hut to help Jessica examine and heal her wounds, Church Hall, Clinic and even the eerie Cemetery where you will see the ghost of a poor girl. Her name was Annie and she is about to tell you her sad story. But it will be at the end of investigation and now you are to overcome lots of obstacles and solve numerous puzzles and hidden object scenes. Some of them will be unusual as a rat puzzle where you are to trap a rat from running away by blocking its path. Or you will become an electrician who should connect cables according to their colors in the right order to repair electricity. So enjoy examining the eerie locations together with Jessica and reveal the awful truth – maybe her husband is not so honest and passionate to her. What terrific secrets does his past hide? Play the game Silent Scream II: The Bride and find out!
Features
2 game modes
Eerie yet picturesque locations
Spooky atmosphere
System Requirements
Windows XP/Vista/7/8/10
Processor 2.4 Ghz or better
512 Mb RAM
DirectX 9.0