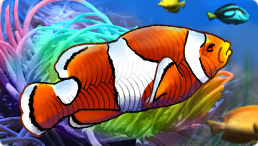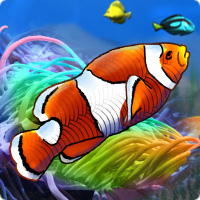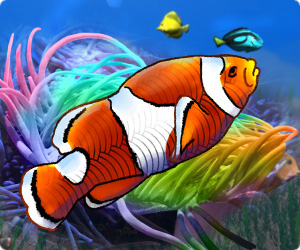 This game is brought to you by our sponsors. It is always free. NO TIME LIMITS!
You will be offered to install MyPlayCity Games Search Chrome Extension with convenient internet search.
Sea Fishes 2
Help the small fish survive among rapacious monsters in the amazing game Sea Fishes 2! Are you ready to dive into dynamic underwater fish simulator? It's time to show all the sea monsters how dexterous and agile you are, dodge from the flocks of sharp-toothed piranhas, sharks and other dangerous species. All you need to do is to help a small fishy survive and not to die from hunger. At first, your fish is small but later on it can contest in size with the most gigantic fishes. Can you imagine that fish simulator will compete with shooters, hidden object games and match 3 and can even win this race? The gameplay in Sea Fishes 2 is easy yet extremely amazing: some of you may find it a bit boring just to avoid bloodthirsty creatures and catch little fishes, but the more you play the game Sea Fishes 2 – the more addictive it becomes. Just imagine the whole situation: you appear in the deep sea and you are the only friend of small fish totally alone among cruel giants that are at all pains to eat it for breakfast. At the beginning you have only 3 lives, try not to come across the hungry monsters in pursuit of small fishes. 3 times you face them, and you should replay the level from the beginning. But there are some bonuses that will make the game easier: keep your eye sharp not to miss an extra life bonus that will prolong the round. Do your best to collect all the white balls, they will save your life, the dangerous fishes will be painted red while the small fishes that you can eat will become green. You will see how many fish you are to eat at the upper panel, so try hard to achieve the goal and get bonus scores. It's vitally important not to stop, your fish should constantly move not to be eaten. Set your own records in the game Sea Fishes 2 and try to beat it every time. The best victory is the victory over yourself, don't forget! Play the funny game Sea Fishes 2 and help your fish grow to the gigantic size!
Features
Dynamic gameplay
Helpful bonuses
Various species of fish
System Requirements
Windows XP/Vista/7/8/10
Processor 600 Mhz or better
256 Mb RAM
DirectX 8.1