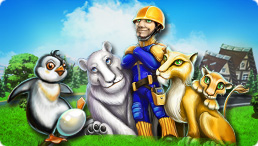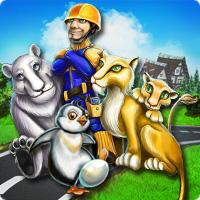 This game is brought to you by our sponsors. It is always free. NO TIME LIMITS!
You will be offered to install MyPlayCity Games Search Chrome Extension with convenient internet search.
Rescue Frenzy
Help the brave rescue team to save injured animals and frightened people in an interesting game Rescue Frenzy! Nature can be sometimes ruthless, it makes work for a rescue team: after disastrous cataclysms heaps, fallen trees, broken roads and bridges are the obstacles on your way. Save the poor trapped animals! To cope with this task you need to clear the way to the hospital. But everything is not that easy. In Rescue Frenzy you also need to collect fuel, bricks, food, money, first-aid sets and metal blocks to have enough resources for the rescue operations. Humanitarian aid comes in time in the parachutes; collect them to get more and more resources. Hurry up! The poor people and little animals are in pain! The more time you need to complete the task the more first-aid kits are required to save the cubs. On your way to the main aim you will also need to restore different plants (for example, material and fuel plants), cafes and donations centers that will provide you with resources. You can upgrade your rescue station to get more people for the rescue team. Increase the speed of your vehicles and rescuers by collecting bonuses that you find. In every level of the game Rescue Frenzy you will get more and more tasks, be attentive and fulfill them all or the level won't be completed. If you are like cute looking animals and is eager to help them the game Rescue Frenzy is just what you need. Do you have enough courage and wit to restore everything and save people and animals?
Features
6 locations
4 bonuses
8 cute cubs
System Requirements
Windows XP/Vista/7
Processor 1 Ghz or better
1 Gb RAM
DirectX 9.0