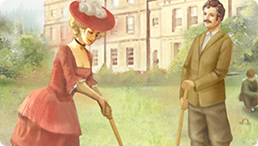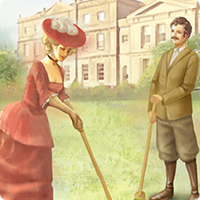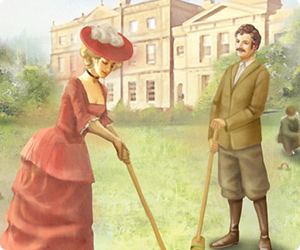 Este jogo é cortesia de nossos patrocinadores. Ele é sempre gratuito. SEM LIMITE DE TEMPO!
You will be offered to install MyPlayCity Games Search Chrome Extension with convenient internet search.
Solitaire: Victorian Picnic
Travel to the Victorian era and practice your skills in solitaire in the captivating card game Solitaire: Victorian Picnic! Are you a fan of sentimental novels where romantic girls and noble men are building relationship? Then, you probably like the novels of Jane Osten and the Brontës: Charlotte, Emily and Anne, where the main characters lived in bloom of the Victorian era. Have you always dreamt of traveling to the age of sense and sensibility, where the girls are pretty and naïve and men – noble and brave? Launch the game Solitaire: Victorian Picnic and enjoy the magnificent views of the such a romantic age! It's high time to practice if you are skillful enough to join the tournaments of solitaire. Because all sorts of card games: both solitaire, poker and preference were in great request. Welcome to glorious England with the game Solitaire: Victorian Picnic! Explore various gorgeous locations and earn trophies! Just play solitaire and find two cards of equal value to get prize score and become the master of solitaire. The rules of the game are simple enough, you can remove the cards of the same rank regardless of their suit. Besides ordinary cards there are special golden cards. But if you manage to get rid of all of them before the cards return to the deck, you'll receive the maximum number of points. During the game you get bonus cards with special mark – if removed, they give you extra coins or bonuses. Play the amazing card game Solitaire: Victorian Picnic and train your logic skills! But there are situations where you are stuck, use helpful bonuses to proceed. There are 3 of them: Shuffle, Mulligan and Joker. Shuffle will mix all the cards and place them to the game board again, Mulligan will cancel your last action and Joker will turn any card to Joker to help cards match. Prove your skills in playing solitaire and get a unique collection of rare trophies such as Correct Calculation for getting points in packs and others. Have fun while playing Solitaire: Victorian Picnic and admire the Victorian epoch!
Destaques
Several bonuses
Nice graphics
Lots of layouts
Requisitos do sistema
Windows XP/Vista/7/8/10
Processador 1 Ghz ou superior
512 MB RAM
DirectX 9.0