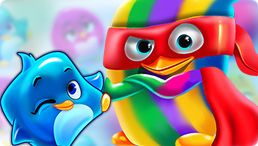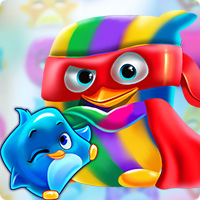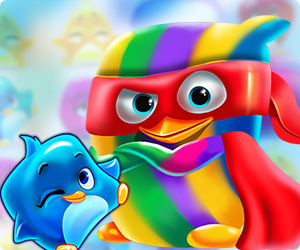 This game is brought to you by our sponsors. It is always free. NO TIME LIMITS!
You will be offered to install MyPlayCity Games Search Chrome Extension with convenient internet search.
Penguin Rescue
Help Teddy-Yeti stop the global warming and save penguins in the captivating match-3 game Penguin Rescue! Are you ready to enjoy the breathtaking and ice-chilling journey to the South Pole? In the funny game Penguin Rescue you'll get a perfect chance to get smarter and become a penguin superhero, so launch it right now! With the help of friendly Teddy-Yeti and his friend Taila, you'll solve lots of puzzles and save funny penguins from global disaster! There are lots of challenging match-3 levels in the game Penguin Rescue, so try your luck to cope with all of them lightning fast to get additional points. Each level has its own task, so brace yourself to clear all sand tiles and receive various amounts of points to complete the level within the exact quantity of moves. If you manage to collect 4 penguins in a row, you'll get a Super-penguin which will clear the rows of other penguins and obstacles. Make L or T-figures from the penguins of the same color to get a super-element – Penguin-bomb. While 5 penguins in a row will unlock the Colorful-penguin booster, combine it with other element and it will destroy all the penguins of this color. Complete quests to help Teddy-Yeti find things from the sets scattered around the South Pole and get coins as a reward. For example, do your best to find the Explorer's Set on the very first map. Every third level will bring you a chance to dive to the marvelous fun. Special missions are unlocked in the game Penguin Rescue! So don't waste time in vain! The tasks are available on the levels 3, 6, 9, 12, 15, so lots of adventures are lying ahead! Find a rope, ice-axe and stretcher to start assembling the special set. For successfully-completed levels you get coins which you can spend on various boosters. For example, Snow Cannon and a +5 Moves booster that will add extra moves if you are lack of them. Take the trip together with Teddy-Yeti and Taila and stop the global warming in the game Penguin Rescue! Cope with absorbing match-3 levels and bring the South Pole in its previous condition!