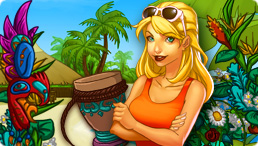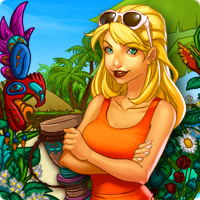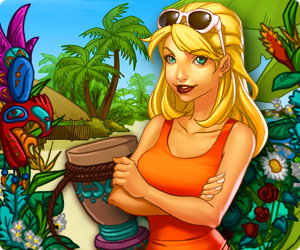 This game is brought to you by our sponsors. It is always free. NO TIME LIMITS!
You will be offered to install MyPlayCity Games Search Chrome Extension with convenient internet search.
Passport to Paradise
Some people can't stop working even during vacations. Others can't stop and take a rest even when the job's finished. The smartest ones make vacations their job. Let us introduce Kate Summers, the main character in Passport to Paradise. She is a successful real-estate executive from New York who decided to take a little rest from busy crowded Big Apple. As always again, she goes to her favorite paradise island - Pulau Kelapa. However, the place she likes a lot got less fascinating. The owners left the island and everything is in mess. Moreover, current management lacks experience and can't do this job well. Kate Summers wants to take the initiative and give it a shot. The heroine of Passport to Paradise decided to turn Pulau Kelapa in one of the best tropical island. Since she isn't familiar with the place a lot, she hired an advisor to help her manage the business. The advisor will guide you and her through the tasks needed to turn the island into a beautiful tropical paradise. Some of those tasks are to develop beaches, construct new roads, to build new facilities providing normal tide of life. After first success in island development, Kate Summers will be inspired so much that she decides to move to following places and explore them. The further she will go in the business, the harder tasks she will decide to take. However, to move further, she has to complete development of Pulau Kelapa. Don't hesitate and do a vacation your new job in Passport to Paradise!
Features
5 different attractive islands
42 unique buildings with particular features
Over 30 types of beach souvenirs
15 natural attractions and places of interest
Sandbox mode for beginners
System Requirements
Windows 2000/XP/Vista/7
Processor 1 Ghz or better
256 Mb RAM
DirectX 8.0