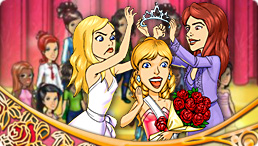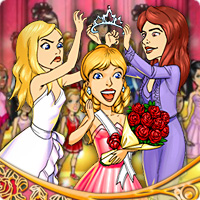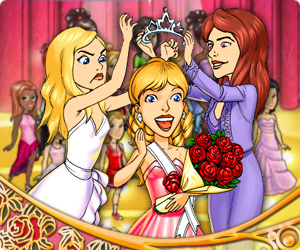 This game is brought to you by our sponsors. It is always free. NO TIME LIMITS!
You will be offered to install MyPlayCity Games Search Chrome Extension with convenient internet search.
Pageant Princess
Let me introduce Bess, the main character of Pageant Princess. She used to work in a restaurant as a waitress for 15 years until she got fired. Since she never had a back-up plan, Bess feels disappointed and rushed, however, when one door closes, another door opens wide. Then she meets her friend Florette who has an open position in her pageant school. Despite the fact that Florette thinks that ex-waitress is far from pageantry, Bess persuades her to give it a shot. Soon it gets out that as matter of fact a place where a newly-made instructor of pageant school needs to prep contestants is given up. And, first of all, she needs to tide it up. When she cleans the place, she finds out it seems to be a very pretty one. Since opening, Bess as a manager works without breaks during competitions in order to help all contestants to express their fascination best. She has learned more tricks how to assist contestants, cheer up them right before an assessment and persuade judges to give competitors higher scores. Hostile and friendly character of Bess and quality service of pageant school are estimated very high so more and more ladies would like to participate in pageant competition. Thus Bess is able to expand her new business she really got into. After each intense and thrilling level of Pageant Princess you are able to buy new facilities that improve service of school. Help Bess to do her best and support her in an exciting way from a rushed ex-waitress to a successful manager of the school in Pageant Princess.
Features
50 breathtaking levels
8 different types of hard-to-please customers
5 unique pageant schools in different locations
8 outstanding princess powers
System Requirements
Windows 2000/XP/Vista/7
Processor 800 Mhz or better
128 Mb RAM
16 Mb of video memory
DirectX 8.0