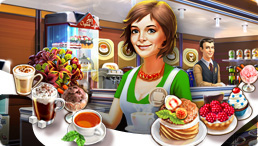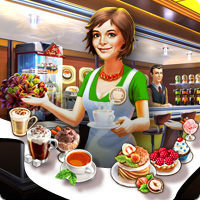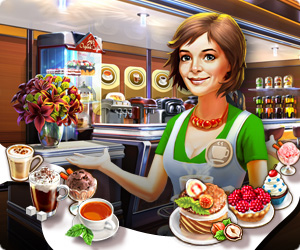 This game is brought to you by our sponsors. It is always free. NO TIME LIMITS!
You will be offered to install MyPlayCity Games Search Chrome Extension with convenient internet search.
Jo's Dream Organic Coffee 2
Help Jo win the Coffee Festival in the dynamic game Jo's Dream Organic Coffee 2! Jo learns that soon the Coffee Festival will be held. To participate Jo has to open a new café. Help her attract as many clients as you can and serve them all! Choose the difficulty mode: Normal (the clients can wait for quite long) or Difficult (all guests are in a hurry). You will be struck by the number of recipes in the new game Jo's Dream Organic Coffee 2. Serve espresso, Americano, latte, cappuccino, chocolate, tea and ice-cream. Besides there are several kinds of each drink. Make not only ordinary espresso, but also the spiced one, with chocolate, grape or espresso con panna! Open the café to start a new day. You are to fulfill certain tasks to gain experience and reach the next level. Try to serve all customers in time and they will give you tips. Don't forget to clean up the tables after the guests leave! When the day is over you can upgrade your coffee shop. Turn it into a luxurious restaurant in the wonderful game Jo's Dream Organic Coffee 2! Buy different equipment: fridge with milk or Americano machine. Attract new clients by buying tables, leather couch or stage where the musicians can perform. Decorate your café with daisies, entryway advertisement, fichus and more. Serve all clients and make a restaurant out of a small café in the game Jo's Dream Organic Coffee 2!
Features
Recipe book
Ability to upgrade the cafe
Relaxing music
System Requirements
Windows XP/Vista/7
Processor 1 Ghz or better
1 Gb RAM
DirectX 9.0