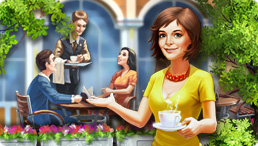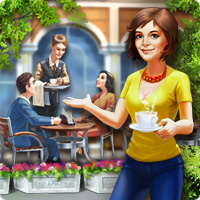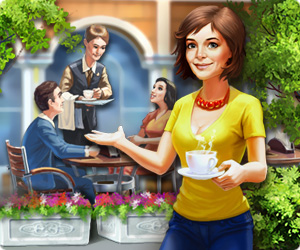 This game is brought to you by our sponsors. It is always free. NO TIME LIMITS!
You will be offered to install MyPlayCity Games Search Chrome Extension with convenient internet search.
Jo's Dream: Organic Coffee
Jo is a young and ambitious girl who is dreaming to open her own coffee shop. Together with her friend she finds a place for the coffee shop. Make her dream come true in a game Jo's Dream: Organic Coffee! There are 2 game modes - relaxed and timed. At first you will have just a couple of tables and coffee machines. Serve the customers and don't make them wait! The longer they wait the worse their mood is. Serve espresso, Americano, croissants and ice-cream for them. After a working day is over you can see your results. Every detail counts - the number of customers served, the drinks made, the guests' mood. The better you cope with the orders the more money you get. The results of each day also include such items as earned money, staff's salary, profit for the day and overall balance. If you are not satisfied with the results you can replay the day. After each day you can upgrade your coffee shop. The more equipment you buy the more recipes are available. Buy furnishings so that more customers can enter your coffee shop. There are also several goals that must be completed! For example: to serve 25 guests, to buy tea machine, etc. Complete the goals to increase the shop's rating and to have access to new equipment and furnishing. When you complete the goals the awards are given to you. Make your own collection! Soon you will not cope on your own so hire the staff to work at the coffee shop - a barista, a waiter, a musician, etc. Everything is true to life! The higher the staff's salary is the harder they work. The game Jo's Dream: Organic Coffee will show you if you are a good businessman or not. Will you cope with a lot of simultaneous tasks? Will the customers be pleased with you? Enter a world of fragrant coffee and tasty pastries in the game Jo's Dream: Organic Coffee!
Features
True to life
Upgrades after each level
Various tasks
System Requirements
Windows XP/Vista/7
Processor 1 Ghz or better
1 Gb RAM
DirectX 9.0