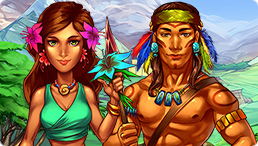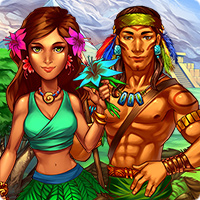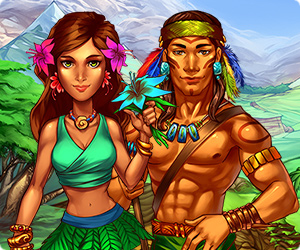 This game is brought to you by our sponsors. It is always free. NO TIME LIMITS!
You will be offered to install MyPlayCity Games Search Chrome Extension with convenient internet search.
Moai III: Trade Mission
Help the neighbors return the former glory of their lands in the absorbing time management game Moai III: Trade Mission! With the main quest and alternate levels to complete, this game offers hours upon hours of addictive gameplay. After defeating Miru, the leader of the Underworld, the Hero and Bright Light live in peace and tranquility, but soon new challenges from the nature will check the main characters' strength. The Tapa-tui village grew rapidly and the Hero decided to trade with other villages and set out a journey to their neighbors. Their lands are devastated because of natural disasters and the main characters are to help them. Grow the crops to get a rich harvest and restore the dilapidated territories in the game Moai III: Trade Mission and all the settlers of Tikku-ana will be thankful to you. At first, cultivate the lands and complete a great variety of tasks. Acquire 70 units of food, stones and other resources to get a treasure chest. Open it and get various helpful resources! Keep in mind that you need woods and stones to build structures and repair bridges while food is necessary for people to survive. You are to repair various structures as gold mine, sawmill, forge and others to cope with the tasks and produce various goods. In the game Moai III: Trade Mission you will also complete such tasks as golden coins production and giving gifts to the Elders. Be quick to finish everything in time and get prize scores! During the level, you'll get several bonuses, for example, speed sandals will make your settlers move faster. Unfortunately, this bonus is exhaustible; keep it for complicated situations to be a success! After finishing the levels you'll get artifacts, keep them and soon you can equip your main characters with them and get lots of bonuses. Get the amazing achievements, for example, Tapa-tui messenger for getting acquainted with Kuhatu, the governor of Tikku-ana and others for your speed and quick wits. Boost your speed of reaction and attention in the addicting time management game Moai III: Trade Mission!
Features
Bright graphics
Dynamic gameplay
Various bonuses
System Requirements
Windows XP/Vista/7/8/10
Processor 1.5 Ghz or better
512 Mb RAM
DirectX 9.0