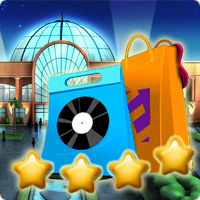 This game is brought to you by our sponsors. It is always free. NO TIME LIMITS!
You will be offered to install MyPlayCity Games Search Chrome Extension with convenient internet search.
Mall-a-Palooza
There is always a smart calculating individual behind a well-organized work. One who manages the entity does so well that it runs as smoothly as clockwork. However, in order to gain experience, one needs to go through a bunch of everyday troubles. One of the best examples of management and well-organized work is Mall-a-Palooza. This game gives a player a whole understanding of huge mall's management in simple patterns. In order to bring in Mall-a-Palooza more diversity, there are 8 different locations. Throughout your activity at every mall, there is an administrator that will help you develop it. At first, they will give you simple tasks in order to see how you fix problems. Since you have gained more experienced, you will get harder tasks to do. As nothing is permanent in a real life, there is no mall where a player works for a long time. As the owner of the mall thinks that the store is developed enough, and there is nothing else you could do, he gives you recommendations and you get promoted to another mall that needs a precise and smart management. Because every mall in Mall-a-Palooza specializes in different sale politics, locates in different areas and differs from others in size and store types, you have to choose the best way to manage a mall. Keep in mind that you also have to bring more profit and satisfy the owner. So there is some time to think if you are ready to take the initiative and jump in the mall-sales business and show them how to make money in Mall-a-Palooza!
Features
8 locations
4 addictive levels in every location
Colorful and memorable characters
Lots of shops to make a mall-for-all
System Requirements
Windows 2000/XP/Vista/7
Processor 1 Ghz or better
1 Gb RAM
128 Mb of video memory
DirectX 7.0