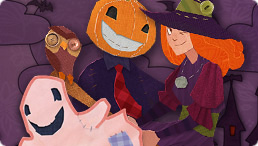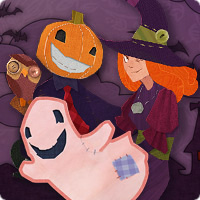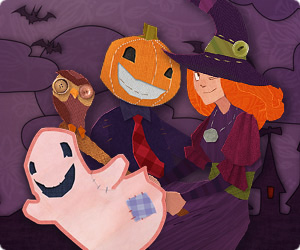 Questo gioco è offerto dai nostri sponsor. È sempre gratis. NESSUN LIMITE DI TEMPO!
You will be offered to install MyPlayCity Games Search Chrome Extension with convenient internet search.
Halloween Patchwork Trick or Treat
Start celebrating Halloween right now with a game Halloween Patchwork Trick or Treat! Do you like spooky things that freeze your blood in veins? Or are you a true lover of horror films that keep you glued to the screen until it ends? In the game Halloween Patchwork Trick or Treat you'll find the traditional motives of every Halloween celebration such as witches, pumpkins, black cats and other attributes. But even thrill-seekers won't be upset without their favorite spooky stories – the puzzle Halloween Patchwork Trick or Treat is extremely catching and all of people will appreciate it without fail! You are to assemble 120 unique jigsaw puzzles, so start right now to get nice trophies! You'll see that all puzzles in the game Halloween Patchwork Trick or Treat are made of 6 materials: wood, linen, glass, paper, precious stones and metal. Your main aim is to find the necessary fragments of a puzzle and place them together to get the whole picture. You won't be alone in the game Halloween Patchwork Trick or Treat – a smart witch, kind ghost and Dracula will oppose you in solving patchwork puzzles! There are several worlds: Werewolf, Wise Witch, Pharaoh Mummy, Good Spirit, Vampire King, so get ready to a real challenge! Each world in the game Halloween Patchwork Trick or Treat includes some puzzles – cope with all of them to unlock the next world! For completing mosaics you need keys which you'll get after assembling the puzzle successfully. You start each level with 3 conditions – they can vary from the world's difficulty, but usually you can get 3 keys for solving the puzzle without mistakes and hints. At first, it's quite easy but later on it becomes really undertaking. But don't give up – you get coins for matching the randomly thrown pieces of the puzzle. If you are lack of hints - you can visit a shop to buy bonuses: special hints and extra time. There are lots of puzzles – make pictures from fragments and have fun! Mystic Halloween creatures, a haunted house, a sinister castle, a black cat, Jack-o'-lanterns, a headless rider, zombies, vampires, witches, pumpkins and other nightmares. Are you afraid? Of course, no - you are a brave heart! Make Halloween pictures from lots of fragments, train your quick wits and have fun in the game Halloween Patchwork Trick or Treat!