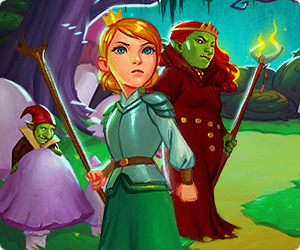 This game is brought to you by our sponsors. It is always free. NO TIME LIMITS!
You will be offered to install MyPlayCity Games Search Chrome Extension with convenient internet search.
Gnomes garden 3
Outwit the cunning warlock to return gnomes' castle in the captivating game Gnomes garden 3! Now you get a nice chance to check your skills in a time management game where you have to keep lots of tasks in mind to fulfill them simultaneously. It's not an easy thing at all, you are to be attentive to every detail. So set off the journey to a magical kingdom and meet the queen who managed to sign an armistice with trolls, so nowadays trolls are her allies! But when she returned to her kingdom, a strange thing happened: a royal castle disappeared into thin air and now your aim is to help the gnomes' queen and return the castle with a royal family back. Set off with the queen through uncharted lands full of mystery and unbelievable creatures in the exciting game Gnome Garden 3 and do your best to restore the gnomes' lands! There are lots of tasks awaiting you in the game Gnomes garden 3: in more than 40 levels you should hire workers, supply them with food, and return the shabby garden its former glory! Immerse into the fairy tale world and have fun in absorbing gameplay where the elements of time management are mixed with strategy game. A fun plot, simple and engrossing gameplay, and new game elements: all this and more await you in the game Gnomes garden 3! You see a large field in front of you and your aim is to turn it into a blooming garden lightning fast. Accept the tasks and start working: hire gnomes and clear the roads, build various structures: quarries, sawmills, factories and other buildings and set fish nets and mills to provide workers with food. Manage resources and building construction, plant magic trees, and fight against the dastardly warlock and followers. Get ready to beat off all the attacks and save the garden safe and sound. The cunning warlock hid in the Grey Wastelands, so build the road to destroy him! Complete lots of tasks in the game Gnomes garden 3 and get a great collection of trophies!
Features
Captivating gameplay
Nice storyline
Lots of trophies
System Requirements
Windows XP/Vista/7/8/10
Processor 1 Ghz or better
512 Mb RAM
DirectX 9.0