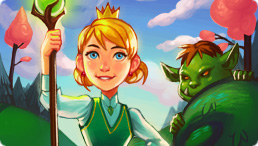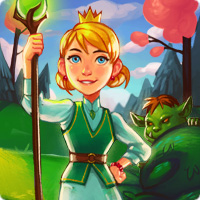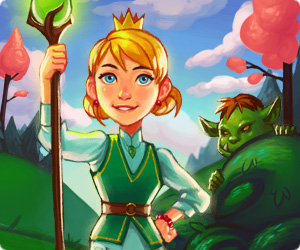 This game is brought to you by our sponsors. It is always free. NO TIME LIMITS!
You will be offered to install MyPlayCity Games Search Chrome Extension with convenient internet search.
Gnomes garden 2
Outwit the cunning troll queen and help the princess restore the withering gardens in the game Gnomes garden 2! Are you fond of fairy tales where kind people always overcome the evil? The game Gnomes garden 2 is a perfect example of such fairy tales. Just imagine: only you can save a small kingdom from fading and break the spells of a wicked witch. The gnomish people who live there have suffered long from the queen of the trolls. So, the princess decides to help her brothers and sisters and return the power of the magic trees. Do you want to see if you are quick and smart enough? Launch the game Gnomes garden 2 and see who is the quickest and most talented gardener in the kingdom! A year has passed since the princess found magical seeds and turned the kingdom its former beauty and now people need her help again. A troll queen has occupied the marvelous gardens and turned the blooming kingdom into the devastated lands. Start right now not to waste a minute! There are lots of tasks in the game Gnomes garden 2, get ready to complete all of them lightning fast to be a success. At first, collect logs to make bridges and clear the territories from the various trash. Make beds for flowers and fruits to restore the ruined economy of the kingdom and get more resources for future. What buildings do you need most? A sawmill, stone-mine and a bakery, of course. Hire workers and give them orders to clear your way, gather fruits and berries and build various constructions! Keep in mind, that magical seeds will be a perfect decision to get a good harvest. So, do your best to find them again and plant gorgeous apple-trees, tomatoes and even rare flowers! Explore the huge kingdom and think over your future moves. Don't waste the energy of the gnomes in vain, just follow the tasks and everything will be OK. You will get lots of trophies for successfully completed task, try to collect all of them! Help the princess remove the curse of the troll queen and banish her away in the amazing game Gnomes garden 2!
Features
Nice plot
Dynamic gameplay
Lots of trophies
System Requirements
Windows XP/Vista/7/8
Processor 1 Ghz or better
512 Mb RAM
DirectX 9.0