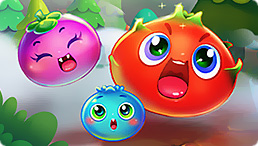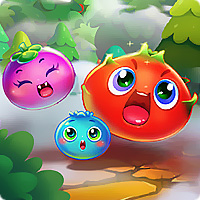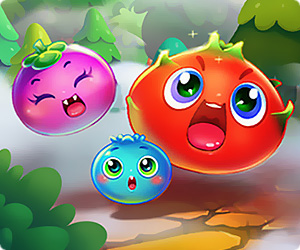 This game is brought to you by our sponsors. It is always free. NO TIME LIMITS!
You will be offered to install MyPlayCity Games Search Chrome Extension with convenient internet search.
Fruity Jumble
Revive the reminiscences about summer in the nice match 3 game Fruity Jumble! What's your favorite season? Of course, tastes differ, and some people will call winter the best season ever, other like blooming spring and warm autumn most of all. But the greatest majority of people will say that hot summer is their favorite season. All of us have our own associations: ripe and juicy fruits, hot days and pleasant sea with green shores. If you are sick and tired of daily routine, launch the game Fruity Jumble to escape from the dull reality into the sparkling summer game! It's time to use your free time wisely, so get ready to boost your reaction and attention. Are you fond of match 3 games? The rules are simple while the game is extremely captivating. It entertains you from the first levels and you can't stop playing since you complete it. So, don't waste a minute! Here you will explore the marvelous land where all the inhabitants are welcome and generous while the locations are picturesque. Each level will give you new tasks to complete, cope with them to go further! The gameplay is easy yet amazing: make rows of the identically colored fruits to remove them from the game board. You will see frozen tiles, keep in mind that you are to do your best to remove them lightning fast to get special reward. When you get over with the frozen tiles, you see a special star on the top of the game board. As you may have already guessed, your mission is to put it down to the bottom of the game board to complete the level. In the game Fruity Jumble you may use various bonuses: on the left corner you'll see a special scale, try to fill it and it will break random tiles on your field. Everything depends on you! The quicker you complete the level's tasks, the better will be your reward and the higher the scores. Compete with yourself and try to improve your results from level to level in the game Fruity Jumble! Remember about the pleasant summer days with the bright game Fruity Jumble and have tons of fun!