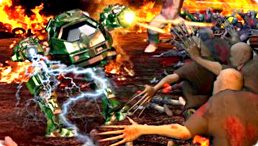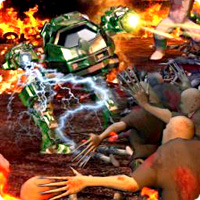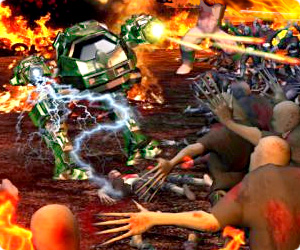 Ce jeu vous est présenté par nos sponsors. C'est toujours gratuit. AUCUNE LIMITATION DE TEMPS!
You will be offered to install MyPlayCity Games Search Chrome Extension with convenient internet search.
Zombie Murder
Ils viennent vers toi, les yeux rouges sanglants exorbités, et ils ne pensent qu'à une chose - manger ton cœur. Es-tu prêt à les affronter ? Tu as peur ? N'aie pas peur ! Tu es loin d'être sans défense. Un robot pour grandes batailles avec deux canons énormes est sous ton contrôle. Sa puissance de feu peut balayer la foule de zombies, utilisant des mitrailleuses, roquettes, lance-flammes, des lasers et d'autres armes. Mais pas si vite... Des zombies avec des tronçonneuses apparaîtront, des zombies crachant de l'acide, des zombies géants... et de plus en plus continuent d'avancer vers toi ! C'est une lutte jusqu'au bout et que le meilleur gagne ! Zombie Murder - un jeu de tir brutal avec de bons graphismes, des effets spéciaux et une musique hard-edge. Un vaste arsenal d'armes, une foule de monstres, des mers de sang et d'explosions...