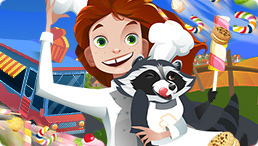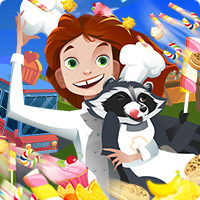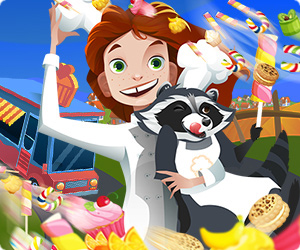 Ce jeu vous est présenté par nos sponsors. C'est toujours gratuit. AUCUNE LIMITATION DE TEMPS!
You will be offered to install MyPlayCity Games Search Chrome Extension with convenient internet search.
Elly's Cake Cafe
Collect juicy fruits, candies and cakes in the delicious match-3 game Elly's Cake Café! Fruit cupcakes, fresh cookies, and chocolate chips are waiting for you in this game! Help Elly and her friend Monty, the raccoon, run the best bakery in the world. Treat the guests with most delicious sweets, learn the best recipes, and find new friends in the game Elly's Cake Café! Entertaining tasks, mouth-watering chips, 90 levels, and unbelievable adventures are waiting for you! Beat the levels, collect the stars and compete with your friends. These delicious tasks won't let anybody get bored, launch the game and take part in the greatest leisure for the entire family!