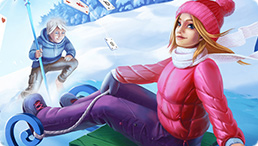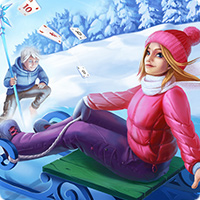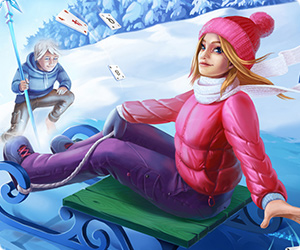 Dieses Spiel wurde von unseren Sponsoren präsentiert. Das ist immer kostenlos. KEINE ZEIT LIMITS!
You will be offered to install MyPlayCity Games Search Chrome Extension with convenient internet search.
Solitaire Jack Frost: Winter Adventures
Cope with all the solitaire levels and celebrate Christmas in the nice game Solitaire Jack Frost: Winter Adventures! Are you ready to accept the challenge and check your skills in completing the numerous winter layouts of patience? How are you going to celebrate Christmas and New Year? If you wish to stay at home, don't miss a chance to get smarter with the colorful and captivating logic game Solitaire Jack Frost: Winter Adventures! Jack Frost is at all pains to freeze the earth and fill all people with joy. And only true masters will celebrate the holidays and get rid of icy chains! Look through the detailed tutorial and start playing right now. The rules are simple, you are to match cards that are coming before or after the card you have on the game board. For example, if you have a card of Jack, you should find a card of Queen or a card of Ten regardless of their suit to put them on Jack. Stay extremely attentive and careful not to miss a possible combination. Besides ordinary cards you can see special golden cards, do your best to put them away from the playing field to complete the layout. If you manage to remove all of them before the cards return to the deck, you'll receive the maximum number of points. During the game, you get bonus cards with special sign – snowflake, if removed, they give you extra coins or bonuses. If you are in dead end, you can always use a bonus. There are 3 of them: Shuffle, Mulligan and Joker. By the way, all of them are sold in the shop. Shuffle will mix all the cards and place them to the game board again, Mulligan will cancel your last action and Joker will turn any card to Joker to help cards match. Choose the back of cards and feel Christmas! Explore the picturesque views in marvelous locations such as Christmas Morning, Winter Joy, and others to get trophies! Enjoy Sweet Prize for receiving the maximum number of points in a level, Elegant Ribbon for getting the maximum number of points on 2 levels in a row, and Triumphal Flower for the same but 3 levels in a row. Play the game Solitaire Jack Frost: Winter Adventures and have winter fun!