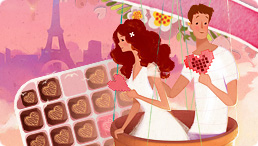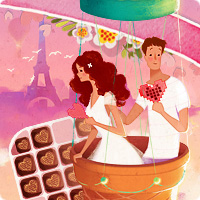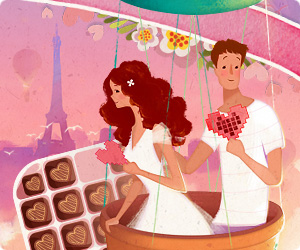 Dieses Spiel wurde von unseren Sponsoren präsentiert. Das ist immer kostenlos. KEINE ZEIT LIMITS!
You will be offered to install MyPlayCity Games Search Chrome Extension with convenient internet search.
Valentine's Day Griddlers
Set off a romantic adventure and solve brain training griddlers in the ravishing game Valentine's Day Griddlers! We have already celebrated the happy Valentine's Day! It's a pity that all the roses have already withered and the sweeties were eaten, but with the game Valentine's Day Griddlers you have a unique chance to revive the reminiscences about the favorite holiday of all beloved. You shouldn't invent the time machine, just play the game Valentine's Day Griddlers and have this pretty holiday fun! But at first if the rules seem a bit unfamiliar, don't be upset – just look through the tutorial and you'll soon understand them. The game Valentine's Day Griddlers has 2 difficulty modes, so it's a real gift both for the skillful players and even newbies, so everybody will find a game to their taste. What are the griddlers? If you have never heard about them, you'll be undoubtedly surprised because the griddlers are special Japanese puzzles, where you should fill in necessary cells according to the numbers to make a picture. Keep in mind the main rule – never try to guess a solution! It's better to start solving the puzzle with the numbers equal to the number of squares in the row or column. Just look at the numbers and fill in the squares to get a pattern! You can get 1, 2 and 3 stars for solving the puzzle in a pack, so you can unlock the next level if you have at least 1 star. Use bonuses if you are stuck: Refilling hints during the level, 2xHints and a great bonus – 3xRights for mistake can prevent you from replaying the level. Don't forget that the better you cope with the level, the quicker you unlock new locations and get a great collection of trophies and rewards! There are lots of them: Key to Heart, Fast Carriage, Teddy Bear, Strawberry Ice Cream and even Bouquet of Daisies. Several new worlds are waiting for you in the game Valentine's Day Griddlers! Explore the Green Valley, walk on Mountain Slopes, admire the flowers in the Blooming Garden and become the most beautiful girl at the Romantic Ball!