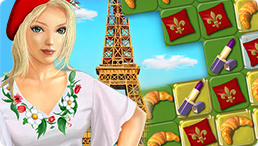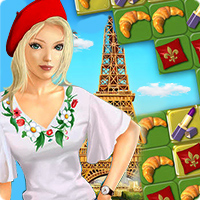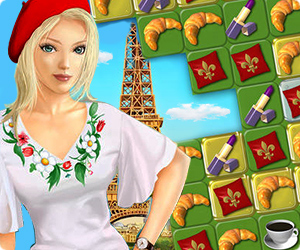 Dieses Spiel wurde von unseren Sponsoren präsentiert. Das ist immer kostenlos. KEINE ZEIT LIMITS!
You will be offered to install MyPlayCity Games Search Chrome Extension with convenient internet search.
Travel Riddles: Trip to France
Visit gorgeous France and solve numerous puzzles in the breathtaking game Travel Riddles: Trip to France! Are you ready to boost your skills in the great logic game? Don't waste a second and launch Travel Riddles: Trip to France right now! Have you always dreamt of visiting France? Now all the dreams come true. Lots of locations are here for you to visit and unlock: Paris Day, Paris Night, Champagne, Courchevel, Provence, Marseille, and Cannes. There are several genres of mini games in Travel Riddles: Trip to France. Play Match 3 mini game, match the rows of the same items and unlock new locations. Make the rows of hookahs, croissants, and cups of coffee to earn achievements and get a chance to go through. You can always use power-ups to make the game easier. Explode the rows to complete the level lightning fast and get golden coins as a reward! Are you fond of jigsaw puzzles? Here you have a nice chance to practice your skills in making beautiful pictures. Complete randomly thrown fragments and get the nice picture out of tons of pieces. At first, it seems an undertaking but soon you'll see that the mechanics is as easy as ABC. Nice pictures are waiting for you: picturesque views of the Eiffel Tower, lavender fields of Provence, placid beaches of Cote d'-Azur, and the luxurious Promenade de la Croisette. With the game Travel Riddles: Trip to France you can travel without leaving your cozy armchair! After coping with the level, you can read an interesting fact about France, well-known painters, writers, and politicians. Get smarter with the game Travel Riddles: Trip to France! Each mini game can be skipped, but it's really interesting to finish each of them and dive into both past and present of beautiful France. Don't miss a unique chance to upgrade your quick wits, speed of reaction, and attention. The further you go in the game, the more difficult the levels will be. Play the challenging logic game Travel Riddles: Trip to France and visit all the sights of interest in France!