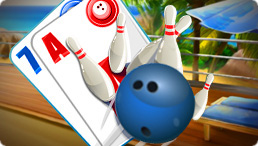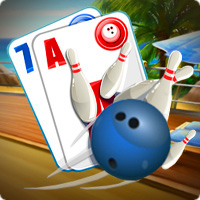 Dieses Spiel wurde von unseren Sponsoren präsentiert. Das ist immer kostenlos. KEINE ZEIT LIMITS!
You will be offered to install MyPlayCity Games Search Chrome Extension with convenient internet search.
Strike Solitaire 2: Seaside Season
Enjoy the dynamic solitaire game and have a rest at the sunny beach Strike Solitaire 2: Seaside Season! Are you fond of relaxing card games where you are to have rest from all the dynamic activities and have a quiet and serene fun while playing solitaire? In the game Strike Solitaire 2: Seaside Season you can pretend that you are on the sunny beach with clean sand and warm calm waters. It's time to escape from our bustling reality and seek for harmony! And the game Strike Solitaire 2: Seaside Season is a perfect means for training your attention and quick wits, don't miss a chance to get smarter and entertained! Not a thing can ever bother you, so you are able to admire the beautiful landscapes and feel freedom on a faraway island. There are lots of layouts before you, at first, play easy ones to unlock more complicated. Explore various gorgeous locations and earn precious rewards! Just play solitaire and find two cards of equal value to get prize score and collect trophies! At the very beginning you are to look through the detailed tutorial and get acquainted with the game if you have never play such kind of games before. The rules are simple enough, you can remove the cards of the same rank regardless of their suit. Besides ordinary cards you can see special golden cards. But if you manage to get rid of all of them before the cards return to the deck, you'll receive the maximum number of points. During the game you get bonus cards with special sign – if removed, they give you extra coins or bonuses. If you are in dead end, you can always use a bonus, keep it in mind. There are 3 of them: Shuffle, Mulligan and Joker. Shuffle will mix all the cards and place them to the game board again, Mulligan will cancel your last action and Joker will turn any card to Joker to help cards match. With this large variety of bonuses, the game turns really captivating! Choose the cover you like and plunge into this breathtaking adventure in Strike Solitaire 2: Seaside Season!