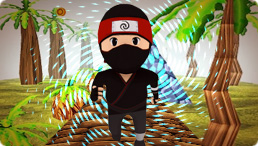 Dieses Spiel wurde von unseren Sponsoren präsentiert. Das ist immer kostenlos. KEINE ZEIT LIMITS!
You will be offered to install MyPlayCity Games Search Chrome Extension with convenient internet search.
Shinobi Runner
Help the ninja escape from the panther and collect all the coins in the amazing game Shinobi Runner! Are you fond of mysterious eastern culture? Geishas with their secret rituals and ninjas who are training since childhood to become the best warriors ever… Are you ready to join the ninja's adventures and check if you are good enough to compete with them? They are true daredevils and their trainings are extremely dangerous but if you can't survive on a training what will you wait from the real mission? So prepare to true hardcore in the game Shinobi Runner! You are a newbie in the ninja clan that's why you get the easiest task – escape from the panther! This training is strange a bit but really effective. So don't waste time, just run and you'll survive! But moreover this training is not just running, there are lots of obstacles on your way so be attentive not to hit them! If you stop you'll die, keep it in mind! Run fast, collect golden coins and upgrade your skills to be faster and stronger. Beware of wooden obstacles and run as fast as you can, try to get all the coins on your way and train your shinobi talents! The longer distance you run, the more challenging your way becomes: there are more obstacles and sometimes it's an undertaking to decide how to maneuver them. But don't be upset, you can meet various bonuses on your way, get them and increase the number of coins you receive or gain a magneto to collect all the coins if you are even unable to reach them. At first, you start the runner as a newbie ninja who can only withstand 1 hit of the obstacles but practice more and you'll unlock stronger ninjas. For 10 000 coins you'll get Fire ninja who can withstand 2 hits, if you are rich enough, buy 30 000 coins for Earth ninja. But the strongest ninja is Water ninja for 40 000 coins, so it's up to you which character to choose. Become the skillful and deft fighter in the game Shinobi Runner, escape from the panther and become incredibly rich!