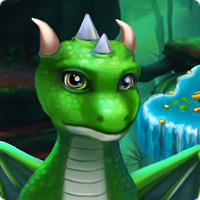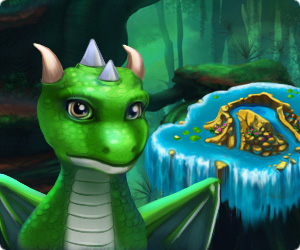 Dieses Spiel wurde von unseren Sponsoren präsentiert. Das ist immer kostenlos. KEINE ZEIT LIMITS!
You will be offered to install MyPlayCity Games Search Chrome Extension with convenient internet search.
Risen Dragons
Return a former glory to a shattered kingdom in the amazing game Risen Dragons! If you are a true lover of breathtaking stories about mighty dragons, you'll like the game Risen Dragons without fail. Wise and mighty creatures are here to protect the land and banish the race of invaders from the vast territories. But the dragons are still small and the magic inhabitants won't manage to destroy the wicked Gatherers without your help. At the very beginning you are to look through the detailed tutorial and later on you can cope with all the quests, mini-games and overcome the obstacles. Meet Terony, the sorceress of the magic kingdom, and follow her recommendations. The kingdom is broken into small floating islands, so your aim is to reunite them and bring the land its former glory. Dragons are here to assist you, use their help! There are 3 of them: green, fire and blue. And each dragon has its own skills and abilities, choose the one who will be more helpful for the exact situation and become invincible! There are lots of valuable resources on the floating islands, do your best to gather them and upgrade your dragons' skills. Terony will ask you for help: she is going to cast spells and destroy the magic portal and prevent the Gatherers from coming to a kingdom. These portals are really dangerous, because with its help the enemies enter the kingdom from other dimensions. Try hard and save the sorceress from the enemies, keep in mind that the cast can't be broken or everything is in vain. Place the dragon to fire all the aliens appearing from the portal by its deadly flame! Complete the levels and get rewards: coins, experience and resources. Boost your dragons' abilities and become stronger! The islands can be connected by clicking the special gear, so save money to rearrange the magic universe. Or you can always buy various helpful boosts in the shop. Travel across the beautiful kingdom, fight with invaders and get new information about monsters and dragons into your special books in the game Risen Dragons!
Funktionen
Lots of boosts
20 kinds of monsters
Helpful artifacts and resources
Systemforderungen
Windows XP/Vista/7
1.5 Ghz Prozessor oder höher
512 Mb RAM
DirectX 9.0