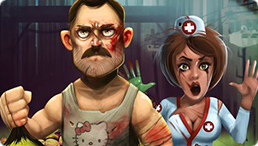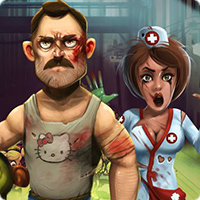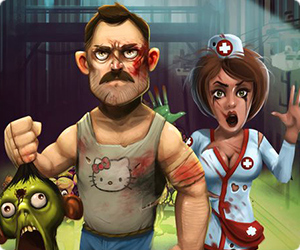 Dieses Spiel wurde von unseren Sponsoren präsentiert. Das ist immer kostenlos. KEINE ZEIT LIMITS!
You will be offered to install MyPlayCity Games Search Chrome Extension with convenient internet search.
Rage Against The Zombies
Destroy the zombie world and help all people survive in the bloodcurdling game Rage Against The Zombies! Sometimes our bad nightmares come true, our phobias and fear appear in our reality and the best way to get rid of them is the good old shotgun not a visit to a psychologist. You are the main character of the game Rage Against The Zombies and you are chosen the hero to kill the hordes of cartoonish zombies. Are you ready to check your skills in accuracy? You are not supposed to escape from zombies, just stand still and they will come visit you themselves. You are standing behind the barricade, so when you get enough money, don't forget to upgrade your shelter and you will be practically invincible. When the missions are harder, the barricade will save you from friendly yet hungry zombies without fail. The waves of zombies are coming, don't be afraid of them, it will bother you – be quick and accurate to survive! The series of headshots will provide you with ammos, money and points for upgrading your weapons. Choose your primary and secondary weapon and create your own strategy of combat! Shotguns, rocket and grenade launchers, Uzis and other weapons are here for you. Beat the attacks of different types of zombies and defeat several cunning zombie bosses! Don't let the zombies come close to you, it's getting more complicated to kill them when they are near. Sometimes a right gun chosen can save your life, so think over your own strategy and annihilate the waves of dead creatures in the game Rage Against The Zombies! There are three worlds for you to clean: at first, you visit the Hospital, later on you appear on the Street, and the last place for you to save is the Subway. Try to count only on yourself, it's the best way to survive in the zombie world, but a pretty nurse will heal you from time to time when you are badly wounded. Check the ammo supplies and upgrade your skills when you have enough points to become a legendary fighter that will save this vicious yet beautiful world!