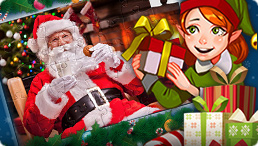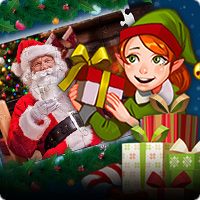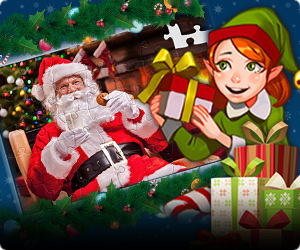 Dieses Spiel wurde von unseren Sponsoren präsentiert. Das ist immer kostenlos. KEINE ZEIT LIMITS!
You will be offered to install MyPlayCity Games Search Chrome Extension with convenient internet search.
Holiday Jigsaw: Christmas 4
Have fun in winter holidays and get unique trophies in the ravishing game Holiday Jigsaw: Christmas 4! Brace yourself to lots of challenging jigsaw puzzles and try your luck, logic and quick wits! It's high time to check if you are skillful enough to cope with colorful winter puzzle, so put everything aside and start playing the game Holiday Jigsaw: Christmas 4! Set the level of difficulty to suit you in each jigsaw: number of pieces, spinning, and deformation. Each picture can be modified to your own taste, just choose the number of pieces from 8 to almost 300. If you have no time, save your progress at any time to come back later. And keep in mind that several tools are at your disposal: use the Ghost to get a transparent view of the picture or Magnifying glass to examine all the details on a small piece of puzzle. There's nothing better than spending time in the warm company of family! Complete jigsaw puzzles with holiday photos in the game Holiday Jigsaw: Christmas 4 – these snowy images with themes of Christmas are sure to hold your interest! The packs Decoration, Winter, Family, Treat and Presents are here for you to solve, so choose the picture and set the difficulty to complete the jigsaw puzzle and have fun! In the Winter pack you'll find snowmen, animals, winter forests and amusements while in the Family pack there are lots of ideas for gifts, decoration and holiday treats. In the pack Presents you'll find beautiful figurines, teddy bears, angels and books. So don't miss a chance to solve the colorful jigsaw puzzles and remember all the fun you have during the winter holidays! Get a unique collection of winter trophies in the game Holiday Jigsaw: Christmas 4 and set your own records. Solve the puzzles and get precious trophies such as Master of Jigsaw for solving a puzzle of at least 200 pieces without hints and tools and others, for example, Puzzle Solver and Inconstancy. Play the game Holiday Jigsaw: Christmas 4 and feel the fun of the winter holidays!
Funktionen
Winter atmosphere
Several packs of puzzles
Tools and hints
Systemforderungen
Windows 2000/XP/Vista/7/8/10
1 Ghz Prozessor oder höher
512 Mb RAM
DirectX 9.0