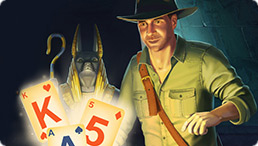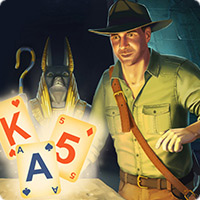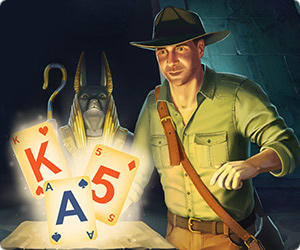 Dieses Spiel wurde von unseren Sponsoren präsentiert. Das ist immer kostenlos. KEINE ZEIT LIMITS!
You will be offered to install MyPlayCity Games Search Chrome Extension with convenient internet search.
Egypt Solitaire: Match 2 Cards
Plunge into the mysterious world of Egypt in the amazing puzzle Egypt Solitaire: Match 2 Cards! Are you fond of miraculous atmosphere of the ancient Egypt and its captivating myths and legends? Since childhood we know that pharaohs were the noblest and wisest rulers ever, people idolize them and that's why the tombs of the pharaohs – the greatest pyramids are so high and distant from the ordinary people's place. Hot sands, deceitful oases and incredible riches hidden in pyramids, – all this characterizes Egypt. And that's why so many adventurers are at all pains to get inside the pyramids, outwit the Sphynx and become the richest person ever. But that was only a dream, nobody who dared to get into the pyramids would never come back. But you can always try your luck in the game Egypt Solitaire: Match 2 Cards and reveal the secrets of pharaoh! It's time to show everyone who is the cleverest daredevil here and who is not afraid of pharaoh's curse. Play solitaire and find two cards of equal value to get prize score and collect trophies. The rules are simple enough, you can remove the cards of the same rank regardless of their suit. Besides ordinary cards you can see special golden cards. But if you manage to get rid of all of them before the cards return to the deck, you'll receive the maximum number of points. During the game you get bonus cards with special sign – if removed, they give you extra coins or bonuses. If you are in dead end, you can always use a bonus. There are 3 of them: Shuffle, Mulligan and Joker. Shuffle will mix all the cards and place them to the game board again, Mulligan will cancel your last action and Joker will turn any card to Joker to help cards match. Collect the required amount of golden cards and use them to unlock the following packs. Choose your difficulty mode – the Professional mode is a true challenge for solitaire connoisseurs! Visit such breathtaking locations as Start of the Path, World of the Sphynx, Mysterious Pyramids and others and admire the picturesque views of Egypt!