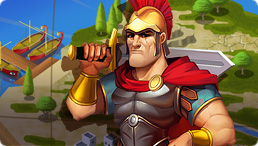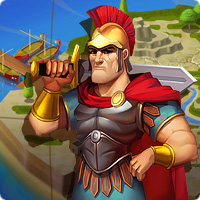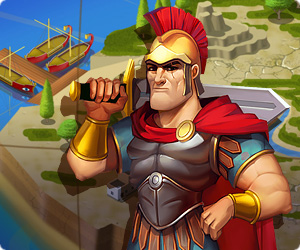 Dieses Spiel wurde von unseren Sponsoren präsentiert. Das ist immer kostenlos. KEINE ZEIT LIMITS!
You will be offered to install MyPlayCity Games Search Chrome Extension with convenient internet search.
Defense of Greece
Boost your tactic skills and save Greece in the amazing game Defense of Greece! What do you know about Greece? In ancient times it was a stronghold of civilization and the enemies were at all pains to enslave this empire. Greece is well-known for its scientists and inventors, for example, Eratosthenes, Archimedes, Socrates and Pythagoras. There are only some names of world-famous scientists from Greece and in the game Defense of Greece you will get acquainted with some of them. The rivals of Greece were sure that without its inventors Greece will be enslaved without fail. All the scientists were kidnapped and imprisoned in a faraway castle by the villains... Only you can help them! But, at first, you are to banish the Romans from the walls of Greece with the help of destructive war machines. Greece is rich in inventors, even if they are young and unknown yet skillful. Help the Greeks protect their homeland and defeat the invaders! You appear at the frontline, so get ready to all the surprises. Your old friend, the skillful Mechanic will help you cope with all the difficulties, so don't be upset! Place all kinds of artillery such as mortars, ballistae and lots of specific mechanisms to stop the hostile troops in the game Defense of Greece! There are various kinds of enemies you are supposed to beat: Roman legions, mechanodroids and other. Choose the appropriate weaponry to give them a battle! After each successful mission you get special details that you can upgrade and fix to the machines making them extremely deadening. Try to cope with all the quest conditions to get more stars and precious crystals (you can buy extra slots in your store for more details and mechanisms). In the game Defense of Greece you have 2 kinds of currency: you can keep golden coins in your inventory even if the mission goes to an end, while silver coins can be used only during the battle. Greece is relying on you, don't let all people down! Play the game Defense of Greece, set the scientists free and become the savior of the great empire!