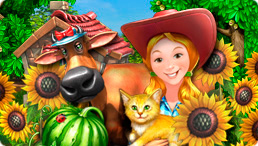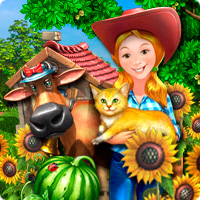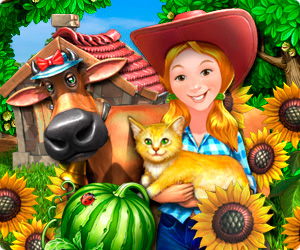 This game is brought to you by our sponsors. It is always free. NO TIME LIMITS!
You will be offered to install MyPlayCity Games Search Chrome Extension with convenient internet search.
Crop Busters
Would you like to have your own farm? It's very interesting, because on a deserted field you can build your own empire: hen coops, cowsheds, greenhouses for vegetables and fruit and conservatories for flowers, you can even place in your farm the flour-grinding factory and creamery. It all depends on your resources and preferences. In the game Crop Busters you'll become the owner of the beautiful winter garden with conservatories with rare flowers from overseas and the head of the dairy empire, which brings significant income. But in order to equip the farm, you have to earn enough money, because plants, corrals and greenhouses are expensive. So, to get profit, you should put into your farm a lot of energy and resources at first. Breed hens and cows, cultivate fruit and vegetables, sell vegetable juice, flour and butter and become the most successful farmer in the kingdom! In the game Crop Busters you have to fulfill lots of quests, collecting rows of three and more identical blocks and breaking stone slabs to earn gold for buying buildings for your farm. Use bonuses to pass the levels quicker: bombs and lightnings eliminate the rows of blocks vertically and horizontally and later you'll get magic helpers -your farm dwellers. Help Scarlett to equip the farm and don't miss the opportunity to know more about farming and get into all hints of farm business. Play the game Crop Busters and become the head of the respectable and well-doing empire!
Features
Perfect graphics
For all ages
Various mini-games
System Requirements
Windows XP/Vista/7
Processor 1 Ghz or better
1 Gb RAM
DirectX 9.0