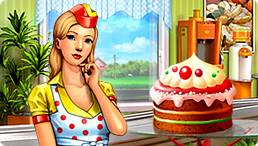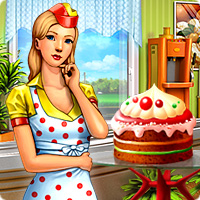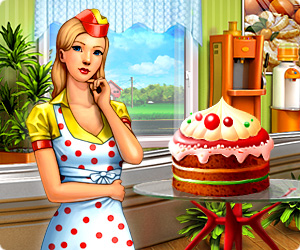 This game is brought to you by our sponsors. It is always free. NO TIME LIMITS!
You will be offered to install MyPlayCity Games Search Chrome Extension with convenient internet search.
Cake Shop 2
Try becoming a successful businessman in an outstanding game Cake Shop 2! It all starts when Federico, a roadside café owner, asks Emily to look after the café, as he has to leave for his grandmother's seventh wedding! Emily is excited, yet nervous, as she feels great responsibility. Only you can help her cope with the difficult task and not let her friend down! Will you plunge into a thrilling adventure and face the challenge? Prepare various orders for the customers at the small café! First of all, you need to learn how to cook cakes: take a waffle, then a jelly and another waffle. Be attentive, as there are many types of jellies and two types of waffles. If you mix up the order, throw it to a trash bin and try once again. Your day income includes several aspects: number of guests served and the service quality. If you serve the customers fast enough, they will give you generous tips. You can turn to Will, a seller of the café equipment, to buy a coffee machine, for example, and diversify the menu. By the way, the coffee must be served hot, as nobody likes to drink cold coffee. In the incredible time management game Cake Shop 2, everything is true-to-life: the guests can lose patience if they wait too long or if the order is incorrect. And on the contrary, if you serve them as fast as possible, they will be happy and pleased and will certainly return to your café again. When you achieve first success, Federico will take a surprising decision that his business can be expanded to a seacoast café! Now apart from buying new machines you will keep an eye on the café construction and choose what to build next: a tent or a bar counter. You will watch how the cozy wooden structure appears at the sea coast step by step. The tasks will get more and more difficult, as the menu will soon become diverse enough to get confused: salty and caramel popcorn, cake-cola, different types of juice, cake-coda, cotton candy, milk and much more. Moreover, the orders can't be prepared that simple, as it will take several steps to cook them. For example, to serve a strawberry milkshake you need to put a glass into an ice-cream making machine and pour ice-cream in it, after that you need to put the glass into a blender and finally the order is ready. To make a cappuccino, first prepare an ordinary coffee and then add some milk in it. If you dream of owning a small café in real life try the amazing simulation Cake Shop 2! You will be as busy as a bee the whole day, but the hard work will be awarded with great income! Build your own empire! This game will make you use logic, as you need to cope with all orders in time. You will train your memory to fulfill different orders simultaneously and not to confuse anything. There are absolutely gorgeous locations, wonderful music and relaxing views in this charming game for girls. Besides, exciting bonuses await you, but you have to decide what is more important, as only one of the bonuses can be chosen at a time: patient guests, time frost, quick machines or fulfilling part of an order. Don't wait too long as the bonuses will disappear in several seconds if you don't use them. On the one hand, the fabulous game Cake Shop 2 will make you relax as you plunge into sunny world and try coping with simple tasks. But on the other hand, it is a brain teaser which demands your concentration. As you see the progress, you are inspired to show even better results and to expand the café to a bigger one. Make profit and open your own café chain with the game Cake Shop 2!
Features
Swift game process
Cool upgrades to help you
Many town cafes to create
System Requirements
Windows XP/Vista/7
Processor 1 Ghz or better
256 Mb RAM
DirectX 7.0