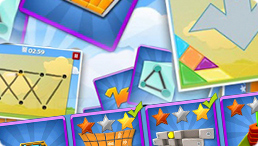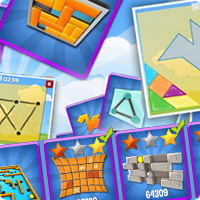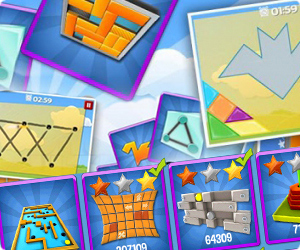 This game is brought to you by our sponsors. It is always free. NO TIME LIMITS!
You will be offered to install MyPlayCity Games Search Chrome Extension with convenient internet search.
Brain Puzzle
Enjoy the brain training game, put all your skills to the test, and get smarter in the amazing game Brain Puzzle! If you are a great fan of puzzles and logic games, then put all your daily routine aside and launch the great game Brain Puzzle! It's anything yet simple, so get ready to show all your skills and upgrade them! The Break and Egg Hunt puzzles have the same mechanics: Look for the hidden objects by their silhouette in the strict sequence and remove the found items from the game board. You have a limited amount of time, so be quick! Put your attention to the test and have fun! In the Don't Fall puzzle, your aim is to move the ball on the playing field to the direction you want and get through the challenging labyrinth. If the ball falls to the holes, it'll appear at the start of the level, and you are to start the game from the very beginning, be extremely attentive not to replay the levels thousands of times. Let's celebrate Christmas again with the funny puzzle where you have a game board with closed tiles and what you have to do is to open a pair of them at a time and remember where the exact picture is to find another one and remove them. It's really captivating! Winter spirit is already here! Stay on your toes because once you click on the wrong tile, the pair of tiles will automatically turn back around. Boost your attention with such a kind of puzzles and see if you can find the row of the same pictures without mistakes and clear the board before the timer goes to the end! Another puzzle is called The Boat, here you are to use the random geometric pieces to assemble the shown figure. You can also rotate them, don't forget about it! Be careful and attentive, every puzzle has its own limit of time and you can't break it. Set your own scores in the game Brain Puzzle and get as more stars as you can. Train your reaction, attention and quick wits in the exciting Brain Puzzle and have a rest from the everyday turmoil!
Features
Increasing difficulty
Interesting gameplay
Various puzzles
System Requirements
Windows XP/Vista/7/8/10
Processor 1 Ghz or better
1 Gb RAM
DirectX 9.0