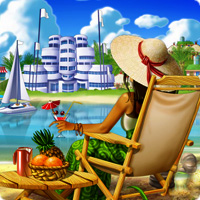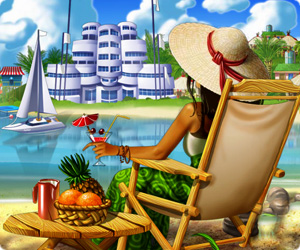 This game is brought to you by our sponsors. It is always free. NO TIME LIMITS!
You will be offered to install MyPlayCity Games Search Chrome Extension with convenient internet search.
Vacation Mogul
Welcome to Vacation Mogul, the estate game! Two sisters suddenly receive a letter telling that the uncle they never saw died. But he left all his property to them. So, your sister gets a huge expensive mansion and you become a business owner. The business is looking well at first glance. The only thing is you have to gain profit from it, and that means - take care about everything! It is not difficult - build bungalows and upgrade them to get more and more rent. Build something to attract tourists, for instance, an ice cream shop, a karaoke bar or beach amusements. Time to time you should repair them. And expanding available construction space also takes money. Each building demands materials that are very expensive, but extension is essential. There also are two catching mini-games. You can win additional prizes for quickness - complete level as fast as you can. Blueprints for buildings can be bought in a shop for experience. Developing your environment will make your profit soar even higher. More detailed information can be obtained from your assistant who will guide you through your business. Moreover, Vacation Mogul has a great detective storyline: soon your assistant will reveal a letter showing that your uncle was killed. By the way, the mansion owned by your hero's sister is unexpectedly for sale. Why? Find it out! Visuals are cartoon-like, bright, and peaceful; there is nothing frightening in the game. Music and sound are pleasant and chill-out. Download Vacation Mogul for free, enjoy resort atmosphere and reveal the story of the heritage!
Features
38 missions
16 types of buildings
12 power-ups
Really cool graphics
System Requirements
Windows XP/Vista/7
Processor 1.7 Ghz or better
512 Mb RAM
DirectX 9.0