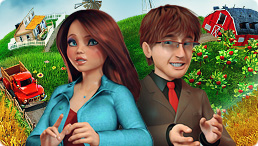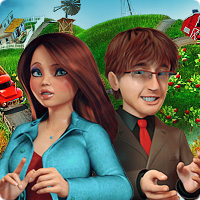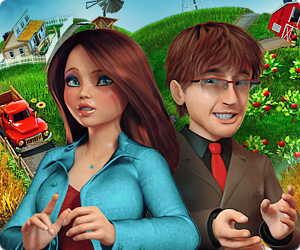 This game is brought to you by our sponsors. It is always free. NO TIME LIMITS!
You will be offered to install MyPlayCity Games Search Chrome Extension with convenient internet search.
TV Farm
Join the popular TV show and become a superstar in the amazing game TV Farm! All of us are sometimes dreaming of a nice house in the country where we can bring all our crazy ideas to life. Some will create a nice winter garden with exotic flowers, others will build a pool to swim and sunbathe in summer, but most people are eager to make garden beds for flowers, vegetables and fruits. Do what you like most! In the game TV Farm you are chosen to take part in the popular TV show where people are to turn a devastated piece of land into the blooming farm! Don't waste time, you have a lot to do! At first look through the tutorial to understand the rules and see various options to start working! You just have only some garden beds but work hard and later on you'll unlock new technologies and get helpful equipment. Upgrade the farm to get a rich harvest and sell the excesses to earn money! Keep in mind that the better you farm is – the more resources you get and the richer you are. Grow pine-trees, provide all the Christmas factories with all the necessary and please both children and grown-ups in the game TV Farm! Complete your first task by growing pine-trees and start other: grow corns, cucumbers, tomatoes, orchids and even pine-apples – everything is possible! Build cowsheds, pig pens and hen coops to develop your small farm. Lots of new technologies are now available for you, learn them and buy new buildings to turn the small farm into a gorgeous household. Build warehouse to keep your products there, a wind mill and even a helicopter to observe your territories and make your daily routine more pleasant. It's more easy to water your garden beds and see which of them should be added or removed. The TV show is long enough, so you will work on the farm during 4 seasons. If you think that winter is the worst time to spend on the farm, you are wrong! Just make pickled products for sale, set yogurt machine and become incredibly rich! Accept the challenge and check if you manage to cope with this undertaking task and turn a ruined farm into a large empire in the great time management game TV Farm!
Features
4 seasons
Interesting gameplay
Easy navigation
System Requirements
Windows XP/Vista/7
Processor 1 Ghz or better
512 Mb RAM
DirectX 9.0