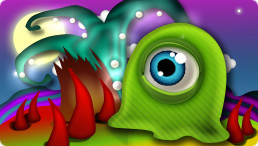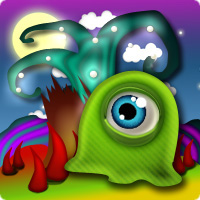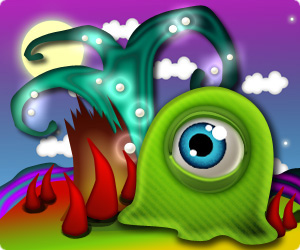 This game is brought to you by our sponsors. It is always free. NO TIME LIMITS!
You will be offered to install MyPlayCity Games Search Chrome Extension with convenient internet search.
Slizz
What do you usually imagine while thinking about aliens? Terrific creatures with huge long tentacles that are trying to enslave human race and annihilate the Earth? How pessimistic you are! Films with special effects usually draw aliens as bizarre and dangerous monsters and we get accustomed to be frightened of them. But have you ever thought that aliens may also be friendly and vulnerable? No? Then we suggest you a new Slizz game which will eliminate your prejudices about aliens! Are you still waiting for a dreadful creature? You'll get it, but the monster, you are going to play for, is so cute and innocent that you'll fall in love with it immediately. The action in Slizz takes place on an obscure planet, where a strange one-eyed, but so undefended alien tries to survive. Only imagine, the green creature finds itself on the unknown planet, it's absolutely alone and only you are the one who can save it. Green monster is attacked by hundreds of unfriendly beings, so you should always be on the alert. The atmosphere around you is really hostile: sharp thorns on the ground, poisonous flowers, evil inhabitants of the planet, and the ground that tends to disappear under your feet. Everything is so terrifying and unsteady! All you need is to be careful and attentive while running, jumping, collecting bonuses and destroying monsters and you will manage with your noble mission of monster's rescue. Download the breathtaking game Slizz and help the creature stay alive!