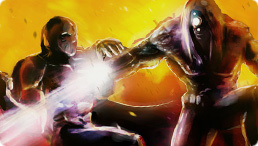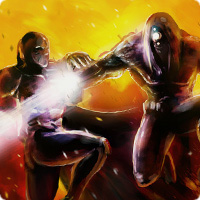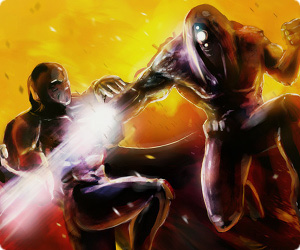 This game is brought to you by our sponsors. It is always free. NO TIME LIMITS!
You will be offered to install MyPlayCity Games Search Chrome Extension with convenient internet search.
Shoot Them All
Shoot all the enemies to survive in the thrilling game Shoot Them All! Here you will find yourself in the totally destroyed city where hordes of enemies are at all pains to kill you. If you are even not a great fan of Counter Strike, you will appreciate the game Shoot Them All without fail! This game is created in the best traditions of shooters where all you need is to survive. You have just one gun, little ammo and a strong desire to stay alive and take vengeance on the alien invaders! Lots of disgusting robots are chasing you so do your best not to die! You were a soldier of the secret squad whose mission was to clean the city from the enemies of Confederation and prepare it for loyal citizens. But something went wrong and the spaceship was shot down. You have lost your memory and can't find your squad – but the only thing you must do is to annihilate the aliens to survive. You have only a gun with a couple of chargers, try to pick up more ammo and weapons from the corpses of fallen enemies to defend yourself! You have an advantage – the desolate city abounds with ruins, so you can hide there in darkness to refill your health. Make a rush through the ruined houses, casinos and night clubs to find weapons and ammo but beware of cunning enemies, they are everywhere! Just a piece of advice: try to search the ruined casinos – there are lots of hidden weapons. Sometimes it's better just to hide without acts of heroism because you won't be able to cope with enemies if they surround you. Aim thoroughly not to waste ammo and explore the godforsaken territories in the game Shoot Them All! Who knows, maybe you will find the soldiers from your group? There is nobody to rely on except yourself, so show no mercy to the enemies and set your own records in killing enemies in the game Shoot Them All! Keep in mind, if you can't cope with this undertaking mission, nobody can save the city from enslavement. Become the terror of alien cyborgs, clean the city from the invaders and train your reaction in the game Shoot Them All!