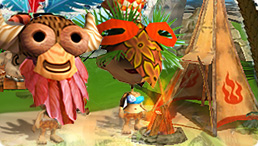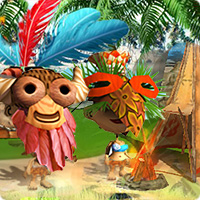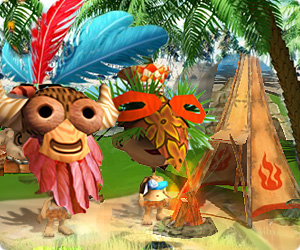 This game is brought to you by our sponsors. It is always free. NO TIME LIMITS!
You will be offered to install MyPlayCity Games Search Chrome Extension with convenient internet search.
Shaman Odyssey: Tropic Adventure
Welcome to Shaman Odyssey: Tropic Adventure! This universe has strong fascinating charms of the tropical island. Meanwhile, game engine brings unforgettable and exciting feeling of a new unexplored game world. Your part in Shaman Odyssey: Tropic Adventure is an inexperienced shaman to whom one night a fire-faced spirit of his ancients came and asked him to unite a tribe that had been scattered for a few decades. That seems to be a hard task for a young shaman who has just took a place of a prior one. In order to inspire you, a fire-faced spirit promises to help you in your journey to unite the tribe. You as a leader are in charge of everything that occurs within lands which belong to your community. While life in your village is going on ordinarily, you have to manage construction of new facilities and upgrade them, maintain social life and look after population. Meanwhile, you as the bravest and most skilled pathfinder have to search around the island and collect necessary resources. That happens to be shells, wood, stone, food and ingredients to prepare a variety of potions. Mixtures help you to struggle against difficulties that could stop your progress. The further you explore the world, the more difficult lands, you will have to discover. However, you don't need to be panic because a spirit of your ancients will always stay with you to help in case of troubles. Accept the challenge and explore this new fascinating universe of Shaman Odyssey: Tropic Adventure!
Features
Charming atmosphere of tropical paradise
Fascinating 3D graphics
A diversity of magical potions to apply
Over 20 different spectacular islands
7 facilities and 14 upgrades to develop their features
System Requirements
Windows XP/Vista/7
Processor 1 Ghz or better
256 Mb RAM
DirectX 9.0