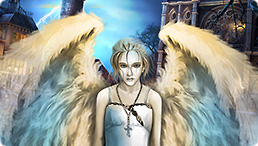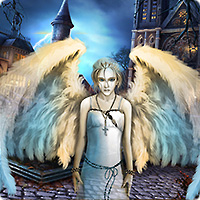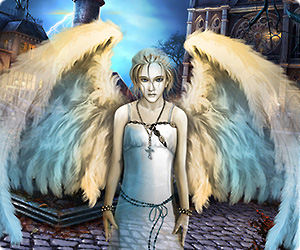 This game is brought to you by our sponsors. It is always free. NO TIME LIMITS!
You will be offered to install MyPlayCity Games Search Chrome Extension with convenient internet search.
Sacra Terra: Angelic Night
Defeat the demons of the Seven Deadly Sins to close the gates to hell in the thrilling to shiver game Sacra Terra: Angelic Night! If you are a true thrill-seeker, this game is just for you. It's filled with sinister scenes, eerie locations and shocking flashbacks of the Sacra Terra past. You appear in the shabby hospital for mental diseases, everything around you is really threatening: fiery demons are haunting you during the whole game so check if your nerves are made of steel not to be scared to goosebumps. The atmosphere in the game Sacra Terra: Angelic Night is extremely depressing because of well-drawn sceneries, bizarre interiors and a plot worth shooting a film by. Solve all the puzzles and explore tons of hidden object scenes to get to the truth and rescue the small yet beautiful town from evil spirits! Lots of challenging puzzles and brain training puzzles and mini games are waiting for you! Keep your eyes open wide not to miss a thing because if you find all the beyond objects, you'll know the spooky age-old secrets about the Morbile Hospital, Sacra Terra town and its inhabitants. Are you ready to banish the demons of the Seven Deadly Sins back to hell? Find a way from the hospital chamber and explore the locations of the mysterious town: a Church, a Sanctuary, the Hospital and the Palace where you are to solve lots of hidden object scenes and complete various mini games. There are lots of them: find and place the tokens to the corresponding slots on the board with Seven Deadly Sins, repair the old electric generator, find matches between 2 pictures and align the planets in the correct order in the sky circle. The gameplay is both amazing and really dynamic: you will never predict what happens to you next! Explore the Church and find out information about the magical ritual that is intended to drive evil spirits away. But something went wrong and all the demons poured out of hell and are going now to destroy our planet. Make the Full Moon ritual, reveal the truth of Angel and close the gates to hell in the game Sacra Terra: Angelic Night!
Features
Gorgeous graphics
42 morphing objects to find
Sinister plot
System Requirements
Windows XP/Vista/7/8
Processor 1.6 Ghz or better
512 Mb RAM
DirectX 9.0