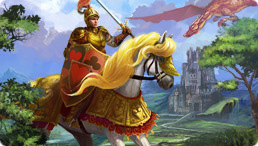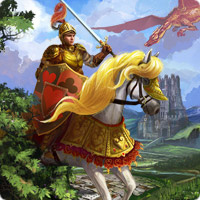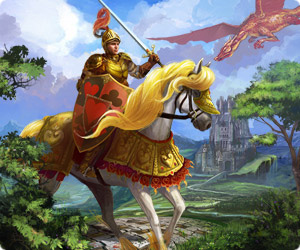 Este jogo é cortesia de nossos patrocinadores. Ele é sempre gratuito. SEM LIMITE DE TEMPO!
You will be offered to install MyPlayCity Games Search Chrome Extension with convenient internet search.
Knight Solitaire 2
Welcome to the medieval world in the board game Knight Solitaire 2 and save the kingdom! It's time to explore the beautiful kingdom in medieval England and admire its unique atmosphere. Brace yourself to immerse into the breathtaking world of novels about brave knights, cunning dragons and pretty ladies! At the beginning you can take part in the knight tournament but later on you are able to try your hand in the combat with a sinister dragon, the guard of incredible treasures. Everything was fine in a blooming kingdom until the dragon started flying there – now the kingdom is under the threat of the dragon and only you can help the people cast off this heavy yoke. Your main aim in the game Knight Solitaire 2 is to remove higher or lower ranked cards and make a chain of cards out of them. For example, you have a card "Jack", so you can put either "10" or "Queen" on it. Everything is easy enough! While solving this solitaire you'll meet special cards – they are golden and after removing them from the game board you'll get extra scores. If you remove all these cards before they return to the deck, you'll get the maximum number of scores. During the game you'll get bonus cards – they will supply you with bonuses when removed. In the logic game Knight Solitaire 2 you can choose the mode to play: in the "Squire" mode you can replay any level, while in the "Knight" mode only the entire pack can be replayed. So, even if you are a novice, you can play the game without difficulties and you are also able to replay any level you want to get more golden coins and scores. But if you choose the "Knight" mode – get ready to think over your future moves not to replay the whole pack. There are several bonuses in the game Knight Solitaire 2 that will help you cope with challenging card layouts, so don't waste them in vain! There are 3 of them: Mulligan, Shuffle and of course Joker. If you want to undo your last action, even using a bonus, use Mulligan. When you have no possible moves, it's time to use Shuffle – it helps you mix all the cards up and start from the stuck point. Get ready to the absorbing adventure and have fun while playing the game Knight Solitaire 2!
Destaques
Several bonuses
Interesting gameplay
High-quality graphics
Requisitos do sistema
Windows 2000/XP/Vista/7
Processador 1 Ghz ou superior
512 MB RAM
DirectX 9.0