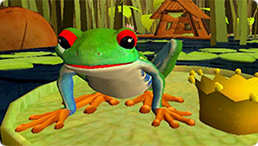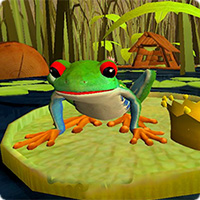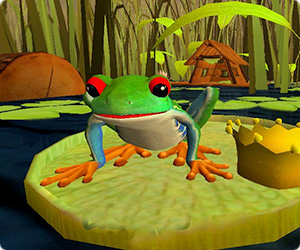 This game is brought to you by our sponsors. It is always free. NO TIME LIMITS!
You will be offered to install MyPlayCity Games Search Chrome Extension with convenient internet search.
Princess Izzie
Once upon a time, Princess Izzie got a letter from the Prince. He asked her to meet him on the other bank of the lake. She didn't ask herself if she really needed to go on the other side and just hopped on a boat and started to row in order to see the Prince. However, despite princess's strong desire to get to the prince, she is stuck somewhere in the middle of the huge lake. And it is not her fault. During her lake trip she was enchanted by wicked witch in a frog. Thus, in order to get out of the lake, Princess Izzie begins her breathtaking journey through the lake that didn't seem so dangerous for her while she was a human being. Sometimes she will think that to pass through the lake is impossible, then she needs to sit calmly a little, eat flies and store up fresh energy for double-length jump. Princess Izzie doesn't know what she will find exactly on the other side of the lake. And she hopes a lot that there will be magicians of the Prince who are able to remove the spell from her. However, before meeting the Prince and presenting herself in not her best state, Princess Izzie has to solve problems that she faces right now, namely, not to get drawn in the lake, get out of the lake prison, figure out how to stay princess if out there are so many nice tasty flies that help to jump further. Despite the fact that it is not easy to reach the other bank of the lake, Princess Izzie will try to get to it passing through all wicked obstacles on her way. Help her to become back a sophisticated lady and find where the best flies within the entire lake are.
Features
Splendid gameplay
Fantastic lake's 3D world
Recent big-time graphical effects
System Requirements
Windows XP/Vista/7
Processor 1 Ghz or better
256 Mb RAM
DirectX 9.0