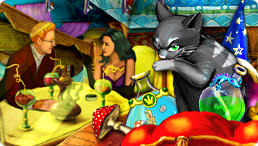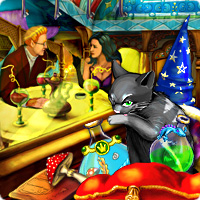 This game is brought to you by our sponsors. It is always free. NO TIME LIMITS!
You will be offered to install MyPlayCity Games Search Chrome Extension with convenient internet search.
Potion Bar
Your part in Potion Bar is a female journalist who writes an article about interesting places in a city. She got a hard week, and by now she has only one bar left. The woman comes to have an interview with the owners at the appointed time but it seems that the place was closed. Because of her curiosity and necessity to complete the article, the heroine of Potion Bar steps in. You find a message left by Jack, the barman, which tells you that out of a blue sky you have become a new staff member in a witch crew. Thus Jack who has worked there too long handed the place over to you not to deal with all those vampires, witches, trolls and especially with that clay statuette that told him how to manage the bar. It sounds like a foolish joke but soon the woman figures out she is a sort of enchanted and just can't leave the facility. In despair she follows an advice from the letter and rubs a clay cat-shaped statuette. All of a sudden, it becomes a real cat that is willing to speak. Moreover, as Jack warned you about the pet, it does like to give you advice about the bar. By the way, at times the help of that cat that didn't introduce itself could be very helpful. The more time you have spent in the bar, the more magic and mysterious creatures appear there. Soon you decide to leave the bar and get back to your normal life so you need to find Jack. The previous barman seems to be fond of travelling so when you follow him you find yourself in different bars where vampires, wizards and fairies are regular customers. Even though you find Jack, it's going to be hard to get out of pubs because the world of Potion Bar is going to keep enchanted for a long time. Are you ready to step in the bar?
Features
35 charming levels
5 fancy locations
Engaging mini-games
Strong thrilling story line
Catchy characters
Attractive enchanting match of mystery and irony
System Requirements
Windows 2000/NT/XP/Vista/7
Processor 500 Mhz or better
256 Mb RAM
DirectX 7.0