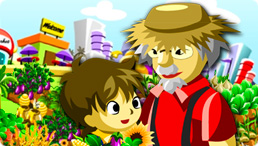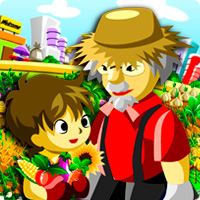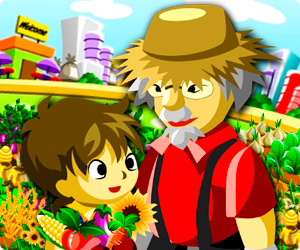 This game is brought to you by our sponsors. It is always free. NO TIME LIMITS!
You will be offered to install MyPlayCity Games Search Chrome Extension with convenient internet search.
Old mcDonald Had A Farm
In the game Old mcDonald Had A Farm you will be helping your grandfather cope with his big farm. You arrive there for your summer holidays and wish to see the grandpa and earn some money. In the game Old mcDonald Had A Farm you start by learning some basics of farming. You are given lots of tools so try to remember what each of them is used for. This is very important because before planting different vegetables you must first prepare the ground. You will have a small area of land on which you will be able to do everything you want: plant the whole of it with carrots, tomatoes or other veggies. But think twice before you start: you have very limited amount of money and you need to distribute it wisely between seeds, fertilizers, tools and other useful things. Don't worry, you are not alone in the game Old mcDonald Had A Farm but with your an assistant. A guy on a bike will deliver your harvest to the shops and sell it there. So, when you get your first order from the shop, what should you do? You prepare the beds and plant the seeds. They will grow very fast and in a minute you'll be collecting the harvest and selling it. It's that easy! But do not hurry to spend money on ice-cream in the heat of the day. You'd better calculate how much you need to prepare beds for the next order and start working on it. In the course of the game you'll have different requests from your customers. That's why you'll deal with vegetables, fruits, trees, bushes, etc. But hurry up, grandpa will be back soon and you don't want to let him down, do you?
Features
Your personal piece of land for farming
Bike and other vehicles to ship the products
Wide network of customers
Excellent graphics
System Requirements
Windows XP/Vista/7
Processor 800 Mhz or better
128 Mb RAM
32 Mb of video memory
DirectX 9.0