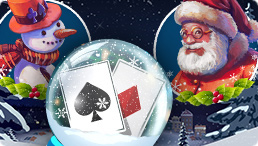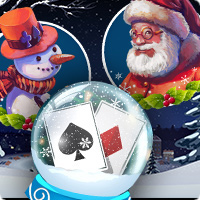 Questo gioco è offerto dai nostri sponsor. È sempre gratis. NESSUN LIMITE DI TEMPO!
You will be offered to install MyPlayCity Games Search Chrome Extension with convenient internet search.
Solitaire Christmas: Match 2 Cards
Play solitaire and enjoy Merry Christmas in the great game Solitaire Christmas: Match 2 Cards! Are you ready to dive into the miraculous atmosphere of the greatest winter holiday? It's time to play the game Solitaire Christmas: Match 2 Cards and see if you are good enough in solving solitaires! What can be better than a walking in the winter streets, visiting shops sparkling with colorful garlands and celebrating Christmas in the company of your family and friends! But if you are a bit sick of celebrating, try your hands at solving solitaires and have fun! More than 120 layouts are waiting for you in the game Solitaire Christmas: Match 2 Cards! Choose the back of cards and feel Christmas! Nice Santas, funny reindeer, Christmas trees and other holiday attributes are here. But if you are a newbie in such kind of games, don't be upset! Everyone will like the game Solitaire Christmas: Match 2 Cards — both professionals and newbies because all people can find something for their own. Look through the detailed tutorial and start playing right now! The rules are simple enough, you can remove the cards of the same rank regardless of their suit. Besides ordinary cards you can see special golden cards and for removing them you receive 1 point. But if you manage to remove all of them before the cards return to the deck, you'll receive the maximum number of points. During the game you get bonus cards with special sign — if removed, they give you extra coins or bonuses. If you are in dead end, you can always use a bonus. There are 3 of them: Shuffle, Mulligan and Joker. By the way, all of them are sold in the shop. Shuffle will mix all the cards and place them to the game board again, Mulligan will cancel your last action and Joker will turn any card to Joker to help cards match. The game Solitaire Christmas: Match 2 Cards is a fun new twist on traditional solitaire for players who love trying new types of deals! Enjoy 12 beautiful locations: Toy Store, Snowy Street, Gala Dinner, solve packs of solitaires and get achievements!