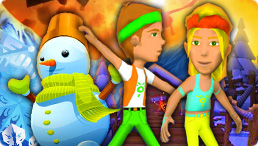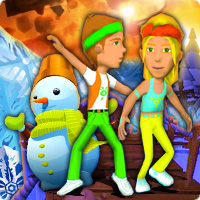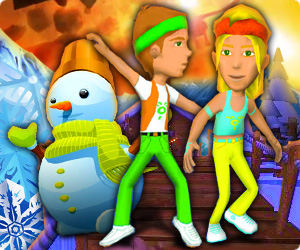 This game is brought to you by our sponsors. It is always free. NO TIME LIMITS!
You will be offered to install MyPlayCity Games Search Chrome Extension with convenient internet search.
Iceworld
In a world covered with tones of ice and snow the great and terrible Yeti lives. His life is boring and monotonous. Day in and day out, he is roaming around boundless lands, looking for something that could make his existence a bit funnier. Whenever you would ask him how the entire world looks like, he would look around and say that the one is a merely huge bunch of snowflakes, ice, snowboard hills, wooden bridges, extremely cold water and pines. And that is his Iceworld. The poor Yeti would like to get out of that place but there is always supposed to be someone to take care of those lands, break down wooden bridges, steal useful stuff like red stars from scientists and scatter them around. Otherwise, life in Iceworld could be quite easy and careless, and everyone would forget who the real master out there is. So in order to make a human residents' time more exciting and give them a break from their boring researches of habitual animals, dreadful Yeti hijacked their wooden raft with a cage and a whale within it. Putting a poor animal in a prison and throwing a key from it in seriously cold water, scaring master of Iceworld tries to find someone who would be happy to play with him in hide-and-seek-the-whale. Thus, your task in Iceworld is not to drawn in icy water, not to get frost-bitten, not to break your back snowboarding, not to be smashed on the ground jumping from one snow hill to another… And, finally, free the whale! One more thing, do not forget to have fun in boundless Iceworld!