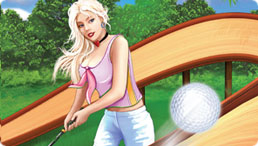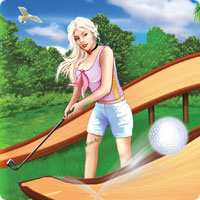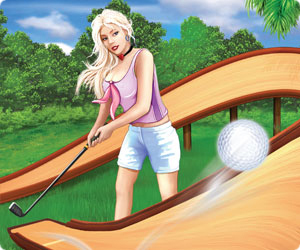 This game is brought to you by our sponsors. It is always free. NO TIME LIMITS!
You will be offered to install MyPlayCity Games Search Chrome Extension with convenient internet search.
Mini-Golf Club
Enjoy the new sport simulator Mini-Golf Club! If you are a true fan of golf, there can be nothing more exciting for you! The main principle of golf is to kick the ball directed by mashie to the hole. But as opposed to simple golf, its mini variant has holes on the artificial field. In general these fields are wooden. So, in the simulator Mini-Golf Club you will have to face 4 championship variations having 18 mini-golf fields each! And every field is a riddle. Some of them have labyrinths that can be passed if the ball hits the target under the certain angle; some have hills, so you have to estimate your strike force. Others combine various obstacles, so you will have to keep in mind all strike factors. There is a scoring system in the game Mini-Golf Club: you cannot go on your competition if you kick the ball too many times. One of the most important features of the game is a mode selection. Single mode is for training and learning strategy, developing your skills and sharpening your strike style. Playing with computer, you can choose 3 levels of difficulty to develop your mastery. On the other hand, multiplayer mode is for having fun with your friends. In-game graphics is 3D; you can choose resolution and colors to your liking. Enjoy the views of nature and game fields, they are very realistic. And funky SFX - sounds of singing birds, shouts of winners and laugh at unfortunate strikes - compose the unique atmosphere of a golf-club in a neighboring park. Download the game Mini-Golf Club for free right now and have fun!
Features
3D-model of the ball
Scoring system
Groovy sounds
User-friendly interface
System Requirements
Windows 98/ME/XP/Vista
1.3 GHz processor
256 Mb RAM
128 Mb video memory