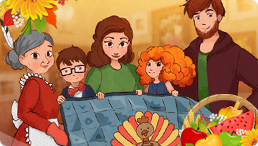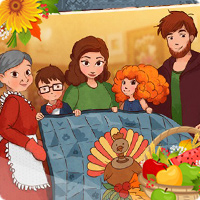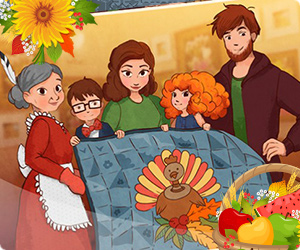 Dieses Spiel wurde von unseren Sponsoren präsentiert. Das ist immer kostenlos. KEINE ZEIT LIMITS!
You will be offered to install MyPlayCity Games Search Chrome Extension with convenient internet search.
Thanksgiving Day: Mosaic
Celebrate the traditional American holiday and have fun in the absorbing puzzle Thanksgiving Day: Mosaic! Are you ready to join the favorite holiday of all the native Americans – the well-known Thanksgiving Day? It's time to roast turkey, make supper and enjoy autumn! Don't waste your time, just launch the game Thanksgiving Day: Mosaic! Thanksgiving Day is started to be celebrated centuries ago when pilgrims landed America and managed to get a rich harvest that helped them survive during the hard winter. This holiday is one of the most honored holidays in the USA, so play the nice game and celebrate it together with all the Americans! You have a lot to do: provide a perfect workout for your logic and quick wits to complete numerous mosaics and get a unique collection. You'll see randomly-thrown pieces of mosaic on the playing field, so your aim is to make a picture out of them. Try to assemble the picture without mistakes within the given amount of time to receive highest possible result in scoreboard. So, be quick! Accept the challenge and try your luck in solving jigsaw puzzles in the game Thanksgiving Day: Mosaic! Be careful to place the fragments to the right places not to lose stars and don't forget about hints. You can always add extra time or use a hint for money you earned. Find the absent patchwork pieces, get money and buy bonuses to make your game easier. Increase the amount of given time or buy a helpful hint. When you are stuck, use them and the necessary puzzle piece will be highlighted. Brace yourself to a bunch of fascinating adventures during this autumn holiday, Thanksgiving Day, and become the master of patchwork puzzles! At the end of the level you'll get a statistical result, look at it and try to beat your own record! Apple pies, stuffed turkeys, traditional parades, cornucopia, fields of ripe corn and pumpkins… The pictures of various themes and materials await you! Try to solve a nice picture with a mouthwatering roasted turkey on it for example and see if there are lots of materials the picture is made of. Immerse yourself in the atmosphere of warm autumn relaxation with your friends and family and play the game Thanksgiving Day: Mosaic!