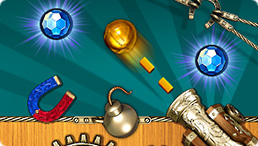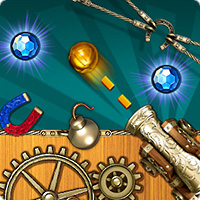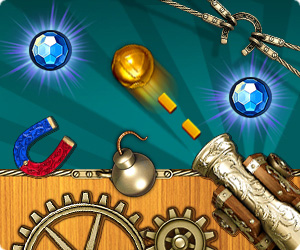 Dieses Spiel wurde von unseren Sponsoren präsentiert. Das ist immer kostenlos. KEINE ZEIT LIMITS!
You will be offered to install MyPlayCity Games Search Chrome Extension with convenient internet search.
Slingshot Puzzle
Rack your brains in the amazing physics game Slingshot Puzzle! Are you fond of brain training puzzles that provide your mind a perfect workout? We all want to run away from the boring daily routine and the best way to do it is playing computer games. Some of us prefer shooters with hordes of zombies, others feel like looking for hidden objects and revealing the detective plot, but if you are out of time, the perfect way is to combine pleasure with use and choose the mix of puzzles to entertain and develop yourself. In the colorful game Slingshot Puzzle you appear in the world of pinball and golf. Here you are to estimate your strength and mind your accuracy to achieve the goals of the game. At the beginning you are to look through the detailed tutorial which clarifies lots of game's possibilities. You need to avoid a variety of obstacles including traps, barriers, ice cubes and more. But the make clever use of fans, switches, rotating blocks and other mechanisms to complete the game missions – all of these things can help or hinder your progress. At the very first levels the tasks are easy enough but later on they'll become much more difficult. So it's high time to train your strategy to be a success. In the game Slingshot Puzzle your mission for all the levels is to collect all the diamonds in one shoot. In the difficult levels it seems an undertaking but we can assure you that everything is possible, you should try a bit harder! Tighten the springs of the mechanism, aim thoroughly and release the ball to fly at the necessary trajectory. There are lots of awaiting traps: you will lose the ball if it finds into the pit, so be careful not to replay the level. Moving objects can be really helpful or prevent you from chasing the goal, the thing is how to use them. Aim in such a way to involve them into the game and they can lead the ball to success. But dirty oil on the game board will just slow the ball so try not to lose it to lead the score in the game Slingshot Puzzle! Win the best trophies and set new records in Slingshot Puzzle!