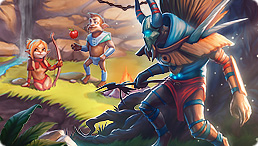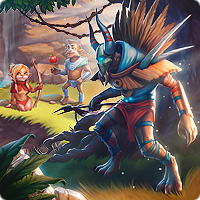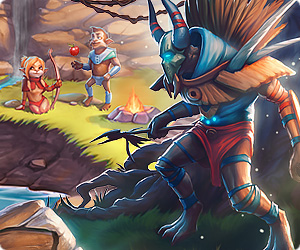 Dieses Spiel wurde von unseren Sponsoren präsentiert. Das ist immer kostenlos. KEINE ZEIT LIMITS!
You will be offered to install MyPlayCity Games Search Chrome Extension with convenient internet search.
Weather Lord: In Pursuit of the Shaman
Destroy the wicked shaman to restore the kingdom in the outstanding game Weather Lord: In Pursuit of the Shaman! Are you fond of adventures where your aim is to save the world from evil powers? It's extremely dangerous but the result worth all the efforts! Welcome to the magnificent realm where all people and animals live peacefully for centuries but everything changes in some hours. The old volcanoes woke up and started to erupt destroying everything by the burning lava. The weather changes and cold winds replaced warm to make all the inhabitants suffer. What's happened? It's time to reveal this mystery! Enjoy the great time management game Weather Lord: In Pursuit of the Shaman and join the breathtaking adventures together with the group of brave shamans! You are to restore the kingdom, help dwellers to build houses and banish the maleficent shaman! Don't waste a minute! The kingdom is invaded with disgusting monsters, find a way to destroy the hordes of them and find the shaman as quick as you can. You are to help the weather lord lead a band of brave warriors across the ruined landscape, complete the missions and finally defeat the enemy. Along the way, you'll help the natives by gathering resources, repairing their villages, and completing quests, using sunlight, rain, wind, and thunder to replenish crops, eliminate enemies, and remove obstacles. Don't stop before difficulties, your friends are here and you can always rely on them! At first, the tasks are easy enough, but later on you'll have to monitor each mission to get enough resources and move forward. Keep in mind that the more houses you build, the more helpers you'll be able to recruit. Lots of rewards and achievements are waiting for you in the game Weather Lord: In Pursuit of the Shaman! This nice game allows you to complete these tasks as you choose: you can either work quickly to reap the best awards and achievements, or take your time and enjoy the colorful visuals, cheerful soundtrack, and addictive gameplay. Choose what you want and have fun in this amazing game!
Funktionen
Nice graphics
Interesting missions
Addictive gameplay
Systemforderungen
Windows XP/Vista/7/8
1.5 Ghz Prozessor oder höher
512 Mb RAM
DirectX 9.0