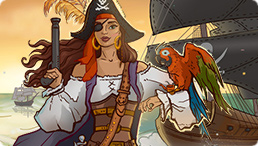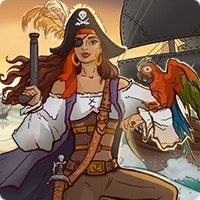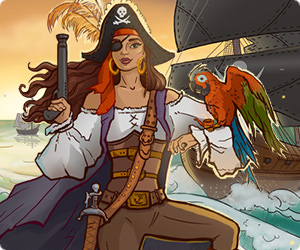 Dieses Spiel wurde von unseren Sponsoren präsentiert. Das ist immer kostenlos. KEINE ZEIT LIMITS!
You will be offered to install MyPlayCity Games Search Chrome Extension with convenient internet search.
Pirate Mosaic Puzzle: Caribbean Treasures
Help pirates find the Captain Flint's incredible treasures in the great logic game Pirate Mosaic Puzzle: Caribbean Treasures! Are you a huge fan of pirate stories and have you been dreaming of joining their adventures since childhood? It's time to make your childish dreams come true! Hoist the Jolly Roger and set off a reckless journey for treasures of the dead captain! Your adventure won't be an easy cruise – you are to boost all your logic skills to cope with uneasy puzzles on your way to the island. The game Pirate Mosaic Puzzle: Caribbean Treasures has 120 mosaic puzzles just waiting for you to assemble them. You'll find all kinds of patchwork puzzles: easy, hard, long and short – so everybody will find a level to their taste. Start from the location Cabin boy and unlock all 6 locations step by step. There are several conditions in each level, complete them all, get keys and unlock new locations. But, there is usually 3 points: assemble the mosaic, complete the puzzle without mistakes and finish the level within the limited amount of time. Be quick and you'll be a success! Look at the picture and think over where the piece of patchwork will be suitable. Sometimes it's not easy at all, so you can always use a hint to cope with a level. Accept the challenge – further levels are more difficult than they are at the very beginning, but the pictures should still be finished within the limited time. Find the absent patchwork pieces, get money and buy bonuses to make your game easier. Increase the amount of given time or buy a helpful hint. When you are stuck, use them and the necessary puzzle piece will be highlighted. Collect stars and unlock the pirate locations in the game Pirate Mosaic Puzzle: Caribbean Treasures! Captain Flint has prepared 120 unique mosaics for you, they are made of various materials: wood, cloth, paper, stone, metal, glass and precious stones, so have fun and get smarter! Enjoy the game Pirate Mosaic Puzzle: Caribbean Treasures and find the hidden treasures of the greatest of pirates ever!