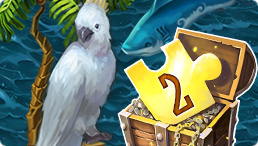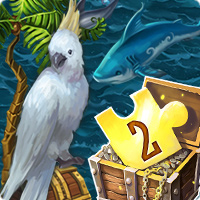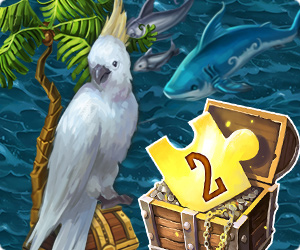 Dieses Spiel wurde von unseren Sponsoren präsentiert. Das ist immer kostenlos. KEINE ZEIT LIMITS!
You will be offered to install MyPlayCity Games Search Chrome Extension with convenient internet search.
Pirate Jigsaw 2
Boost your logic skills and join the sea adventure in the game Pirate Jigsaw 2! Are you ready to set off a journey and develop your mood and logic? A lot of people are fond of board games and puzzles where your main aim is to cope with all the tasks and check if can be the best in the top score list. Brace yourself to a challenging pirate cruise where lots of puzzles are waiting for you. 5 chests with breathtaking pictures are here to solve them. All the functions are customizable: take your preferences into consideration! You can set special settings to each of a puzzle: cut a picture up to 266 pieces to accept the puzzle challenge of the century. If you want to make the puzzle even more complicated, activate the function of rotating pieces, so you are to rotate some of them to complete the puzzle. With a function of configuring the difficulty, both professionals and amateurs will have fun in this absorbing game. Don't worry if you have no time to complete the puzzle, save your progress and return later! At the end of the level you'll get a marvelous picture that will be saved in your record list. You can compare the time of solving the puzzles and even improve it. Various images in the chests such as beautiful pirates, animals, treasures, picturesque views and treats await you in the game Pirate Jigsaw 2. But if you come across with the difficulties, don't be upset, use helpful tools and hints. All of them make the gameplay even more comfortable for all the categories of players. For example, Ghost will show you a transparent view of the picture, a Border will highlight the fragments for the border of the exact puzzle while a Pocket serves as a place for storing unnecessary pieces. Play the game Pirate Jigsaw 2 and get a unique collection of trophies! Meditation will be yours for 1, 5, 10 and 50 hours of playing while Inconstancy will appear in your collection for solving 1, 5, 10, and 20 different puzzles. Rack your brains with Pirate Jigsaw 2 and have fun!