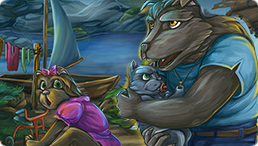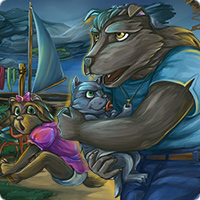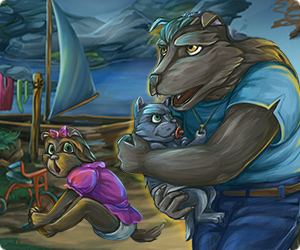 Dieses Spiel wurde von unseren Sponsoren präsentiert. Das ist immer kostenlos. KEINE ZEIT LIMITS!
You will be offered to install MyPlayCity Games Search Chrome Extension with convenient internet search.
Mahjong: Wolf's Stories
Cope with all the mahjong levels and help father wolf find his sonny in the captivating logic game Mahjong: Wolf's Stories! Brace yourself for breathtaking adventures in a company of the big kind wolf! Don't be afraid of him, he's seeking your help, because one of his beloved cubs is missing and you're the only one who can help. Are you a fan of mahjong? It's time to show how skillful you're, because you'll be able to find the little wolf after you cope with 120 levels of mahjong. Here you will get a unique chance to rack your brains and upgrade both your attention and quick wits – so launch the game and join this incredible adventure. At the beginning of the game Mahjong: Wolf's Stories you'll be offered a detailed tutorial, so don't skip it if you don't know the rules. There are 2 game modes at your disposal: Normal and Relaxed. Choose the one you like most! Normal mode is the one with tasks and goals for each level, while Relaxed mode is just playing mahjong without tasks and goals, it's the best choice for beginners. Earn stars to unlock new packs with cards and explore new locations where the wolf cub can be captured. The quicker you remove the tiles – the higher is your score, it means that you get more points during the game. At the beginning of the level you receive the ordinary and special tasks to complete: remove the exact quantity of golden tiles, get the required number of points and comply the level within the designated amount of time or try not to exceed the limit of given moves. Don't forget that the "flower" and "seasons" tiles can have various icons, you can remove the pair of them even if the flowers or seasons are different. So, if you see them unblocked, click on such a pair to remove. Provide a perfect workout for your logic and attention and become a master of mahjong! Keep in mind that you can always use hints if you are stuck, but don't rely too much on them. Cope with all the layouts and get a unique collection of trophies and achievements! Help the desperate wolf find his little son and overcome all the obstacles in Mahjong: Wolf's Stories!