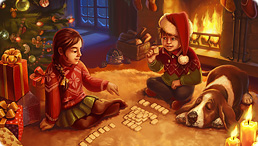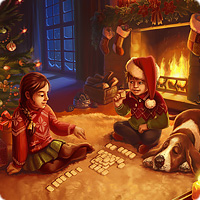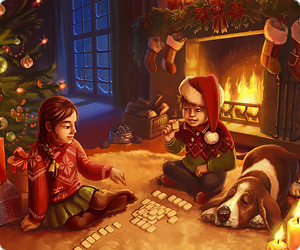 Dieses Spiel wurde von unseren Sponsoren präsentiert. Das ist immer kostenlos. KEINE ZEIT LIMITS!
You will be offered to install MyPlayCity Games Search Chrome Extension with convenient internet search.
Mahjong Christmas 2
Celebrate Christmas and enjoy mahjong in the amazing game Mahjong Christmas 2! Are you fond of a long-awaited holiday with sparkling trees, tasty dishes and lots of presents? In Christmas all your desires and wishes will come true, so feel free to wish everything! In the game Mahjong Christmas 2 you will get a unique chance to rack your brains and upgrade both your attention and quick wits — so launch the game and join this incredible adventure. Both grown-ups and children will like it for its beautiful graphics and amazing gameplay. You are to join the ravishing Christmas celebration, unlock picturesque locations and make a pair for all tiles. Welcome to the beautiful locations Snow-Covered town, Christmas Rink, or Toy Store and become a Master! The rules are easy enough: a pair of available matching tiles can be removed from the game board. At the beginning of the level you get the special tasks to complete — remove the exact quantity of golden tiles, get the required number of points and comply the level within the designated amount of time or try not to exceed the limit of given moves. The quicker you remove the tiles — the higher is your score, it means that you get more points during the game. You have a multiplayer below, do your best to fill it and get extra bonuses. Find the unlocked pairs of special tiles and remove them, the "season tiles" can be removed even if the tiles look different. At the bottom right corner you see the shuffle bonus, so when it is filled and you are stuck — use it to shuffle the left tiles and go on playing! Silver tiles can restore the shuffle bonus immediately, so try to remove it at first. After removing the special tiles, you can get special bonuses. But, moreover, packs of amazing trophies are here for you! Get Crystal Ball for earning 100 000 points, Christmas Gift for receiving 30 stars, or a Craftsman's Hat for completing 30 levels with a highest amount of scores. Get ready to Christmas holidays, boost your logic and have fun in the game Mahjong Christmas 2!